About Vanishing Falls
• Paperback: 432 pages
• Publisher: William Morrow Paperbacks (August 4, 2020)
One of CrimeReads Most Anticipated Books of the Year!
"This literary thriller paints as vivid a landscape as any book coming out this summer…Gee creates a lush, tantalizing world that readers will want to travel into deeper and deeper."—CrimeReads
Celia Lily is rich, beautiful, and admired. She's also missing. And the search for the glamorous socialite is about to expose all the dark, dirty secrets of Vanishing Falls…
Deep within the lush Tasmanian rainforest is the remote town of Vanishing Falls, a place with a storied past. The town's showpiece, built in the 1800s, is its Calendar House—currently occupied by Jack Lily, a prominent art collector and landowner; his wife, Celia; and their four daughters. The elaborate, eccentrically designed mansion houses one masterpiece and 52 rooms—and Celia Lily isn't in any of them. She has vanished without a trace.…
Joelle Smithton knows that a few folks in Vanishing Falls believe that she's simple-minded. It's true that Joelle's brain works a little differently—a legacy of shocking childhood trauma. But Joelle sees far more than most people realize, and remembers details that others cast away. For instance, she knows that Celia's husband, Jack, has connections to unsavory local characters whom he's desperate to keep hidden. He's not the only one in town with something to conceal. Even Joelle's own husband, Brian, a butcher, is acting suspiciously. While the police flounder, unable to find Celia, Joelle is gradually parsing the truth from the gossip she hears and from the simple gestures and statements that can unwittingly reveal so much.
Just as the water from the falls disappears into the ground, gushing away through subterranean creeks, the secrets in Vanishing Falls are pulsing through the town, about to converge. And when they do, Joelle must summon the courage to reveal what really happened to Celia, even if it means exposing her own past…
Social Media
Please use the hashtag #vanishingfalls, and tag @tlcbooktours, @williammorrowbooks, and @poppygeenovelist.

Purchase Links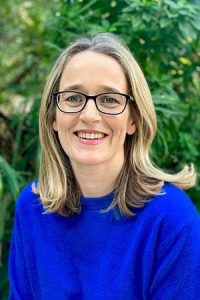 About Poppy Gee
Poppy spent the first eighteen years of her life in Tasmania. Her family lived on a small farm outside of Launceston. She moved to Brisbane to attend the University of Queensland where she received a BA in English. In Brisbane, she was working behind the bar in the beer garden at the Royal Exchange Hotel when she met her future husband, a carpenter called William.
Poppy has worked as a guesthouse manager in Edinburgh, Scotland; been a nanny, ski guide and hotel cleaner in Zermatt, Switzerland; a bartender in Lagos, Portugal; and was employed on a luxury yacht on the French Riviera until she was too seasick to continue. She has also worked as a journalist and editor in Sydney and Brisbane. She now lives in Brisbane in an 1875 Queenslander cottage with her husband, three children and three cats.
Poppy is currently focusing on raising her children and writing. In her spare time, she likes taking her kids to the beach, hiking alone in the forest, snow-skiing, exploring historical places, gardening and reading.
Vanishing Falls is set in a fictional rainforest area, near the Liffey Falls, an enchanting three-tiered waterfall beneath the Great Western Tiers in northern Tasmania, where Poppy's parents liked to take their four children for bushwalking picnics on weekends.
Her first novel, Bay of Fires, was written as part of a Master of Philosophy in Creative Writing, at the University of Queensland, for which she received the Dean's Award for Excellence.
Find out more about Poppy at her website, and connect with her on Facebook, Twitter, and Instagram.
Instagram Features
Tuesday, August 4th: Instagram: @megsbookclub
Wednesday, August 5th: Instagram: @bookishblissandbeauty
Thursday, August 6th: Instagram: @somekindofalibrary
Friday, August 7th: Instagram: @readingmama_reviews
Saturday, August 8th: Instagram: @hooked.by.books
Sunday, August 9th: Instagram: @wordswithrach
Tuesday, August 11th: Instagram: @crystals_library
Tuesday, August 11th: Instagram: @the.magicalpages
Thursday, August 13th: Instagram: @bluntscissorsbookreviews
Thursday, August 13th: Instagram: @books_with_bethany