Mass Market Paperback: 384 Pages
Publisher: Zebra (October 27, 2020)
LOVE'S FLAME BURNS BRIGHT

Leanna Ryan's hometown in coastal Oregon has been her refuge ever since a traumatic event during her teens. But over time, even the safest harbor can start to feel more like a prison. That's why Lea, a master carpenter and wood sculptor, is moving to Wyoming, a place whose rugged beauty has long captured her imagination. The scenery around Silver Creek is as stunning as she hoped, and her new employer, Logan Anderson, is generous and fair, though his eyes reveal a sadness she recognizes all too well.
Logan immediately knows he can trust Lea with his Wild Goose Ranch remodeling project. Her skill, her dedication—they're as appealing to him as her unaffected beauty. But he has other reasons for unease. There have been disturbing events around the ranch. Then Lea's car is rammed in a hit and run. Logan has already lost so much; now he fears he's jeopardizing not only his property, but Lea too. His dream is to convince Lea to make Silver Creek her home—but first, he'll have to keep her safe . . .

Purchase Links
About Lindsay McKenna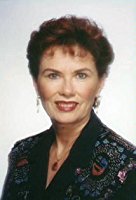 New York Times and USA Today bestselling author Lindsay McKenna is the pseudonym of award-winning author Eileen Nauman. With more than 185 titles to her credit and approximately 23 million books sold in 33 countries worldwide, Lindsay is one of the most distinguished authors in the women's fiction genre. She is the recipient of many awards, including six RT Book Reviews awards (including best military romance author) and an RT Book Reviews Career Achievement Award. In 1999, foreseeing the emergence of ebooks, she became the first bestselling women's fiction author to exclusively release a new title digitally. In recognition of her status as one of the originators of the military adventure/romance genre, Lindsay is affectionately known as "The Top Gun of Women's Military Fiction." Lindsay comes by her military knowledge and interest honestly—by continuing a family tradition of serving in the U.S. Navy. Her father, who served on a destroyer in the Pacific theater during World War II, instilled a strong sense of patriotism and duty in his daughter.
Connect with Lindsay
Instagram tour:
Sunday, October 25th: @tlcbooktours – giveaway
Monday, October 26th: @mixed_matched_socks
Tuesday, October 27th: @angelareadsbooks
Wednesday, October 28th: @jenguerdy
Wednesday, October 28th: @readaholicmom
Thursday, October 29th: @everlasting.charm
Thursday, October 29th: @my_read_feed
Friday, October 30th: @lyon.brit.andthebookshelf
Sunday, November 1st: @bookscallmyheart
Monday, November 2nd: @babygotbooks13