Paperback: 456 Pages
Publisher: Moon Travel; 1 edition (July 28, 2020)
Vast rugged prairies, adventurous Wild West towns, and the palpable spirit of the pioneers: Experience legend come to life with Moon Oregon Trail Road Trip.
Choose Your Route: Drive the entire 20-day road trip from Independence, Missouri, to Oregon City (at a mild, moderate, or strenuous pace!) or take shorter getaways along sections of the trail in Kansas, Nebraska, Wyoming, and Idaho, including worthwhile detours
Drive Through History: See the Guernsey Ruts left from wagons almost 200 years ago, read pioneer names carved into Register Rock, and learn about 10,000 years of oral Umatilla history. Practice loading a real wagon, down a mug of sarsaparilla in a recreated Old West town, and take a relaxing soak in the same hot springs as the pioneers
Discover Diverse Historic Perspectives: Delve into the rich cultures and histories of the Native American tribes who have called these lands home for over 10,000 years. Venture through an underground city created and inhabited by Chinese pioneers. Learn the stories, struggles, and triumphs of free and enslaved black emigrants on the trail. Discover what life was really like for women making the journey west
Adventure Along the Trail: Tube through the whitewater of Platte River, explore limestone caves, and kayak across clear blue lakes
Maps and Driving Tools: Easy-to-use maps and full-color photos throughout keep you oriented on and off the highway as you follow the approximate route of the original Oregon Trail, along with site-to-site mileage, driving times, and detailed directions
Expert Insight: Oregon local and history buff Katrina Emery shares thorough background on the realities of the trail and recommendations for seniors, families with kids, and more
With Moon Oregon Trail Road Trip's flexible itineraries and practical tips, you're ready to take an adventure through history.

Purchase Links
About Katrina Emery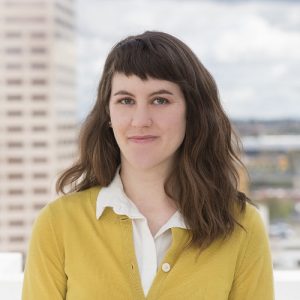 Having grown up in the Rockies avoiding dysentery in the ubiquitous computer game, the Oregon Trail has always captured Katrina Emery's imagination. Not only does she currently live at the end of the eponymous trail in the Promised Land of Oregon, she also spent a few years living in Nebraska, where the rolling fields gave prairie schooners their names.
Now living in Oregon for the past 9 years, she's ferried the Columbia River, spied the Pacific Ocean, and enjoyed the fruits of the historic farms that pioneers planted here. She knows where to find original wagon ruts that still exist on dusty roads and etched into stone, and loves digging deeper into history to find even more fascinating tales.
A history buff and lover of stories with a sense of place, Katrina is also a food enthusiast and passionate writer. She's covered food, farms, travel, and family fun for publications like 1859: Oregon's Magazine, Edible Portland, Montavilla Farmers Market, Matador Travel, and Stay Wild. She is also a regular contributor to the national website Red Tricycle for Portland.
Connect with Katrina
Instagram tour:
Monday, September 21st: @kelly_hunsaker_reads
Tuesday, September 22nd: @createexploreread
Wednesday, September 23rd: @oxfordjanebooks
Thursday, September 24th: @booksandbackroads
Thursday, September 24th: @nurse_bookie
Friday, September 25th: @booktimistic
Saturday, September 26th: @crystals_library
Sunday, September 27th: @theocbookgirl
Sunday, September 27th: @sarahs_reads
Sunday, September 27th: @pnwbookworm
Monday, September 28th: @reading.wanderwoman
Thursday, October 1st: @iowaamberreads
Thursday, October 1st: @escape_in_a_book