About The Unraveling of Cassidy Holmes
• Paperback: 448 pages
• Publisher: William Morrow Paperbacks (September 1, 2020)
"The Unraveling of Cassidy Holmes is a page-turning peek inside the glamour and brutality of life as a pop star. Sloan takes us on a wild ride through the world of music video shoots, expensive hotels, and arena tours—showing us the darkness that threatens just below the surface." —Taylor Jenkins Reid, New York Times bestselling author of Daisy Jones and The Six
"I didn't know I was waiting for a smart, literary writer to craft a novel about the rise and fall of a teen star akin to Britney Spears until I discovered The Unraveling of Cassidy Holmes. A witty, bright, hilarious—and at times devastating—read. I loved it." —Amanda Eyre Ward, New York Times bestselling author of The Jetsetters
Cassidy Holmes isn't just a celebrity.
She is "Sassy Gloss," the fourth member of the hottest pop group America has ever seen. Hotter than Britney dancing with a snake, hotter than Christina getting dirrty, Gloss was the pop act that everyone idolized. Fans couldn't get enough of them, their music, and the drama that followed them like moths to a flame—until the group's sudden implosion in 2002. And at the center of it all was Sassy Cassy, the Texan with a signature smirk that had everyone falling for her.
But now she's dead. Suicide.
The world is reeling from this unexpected news, but no one is more shocked than the three remaining Glossies. Fifteen years ago, Rose, Merry, and Yumi had been the closest to Cassidy, and this loss is hitting them hard. Before the group split, they each had a special bond with Cassidy—truths they told, secrets they shared. But after years apart, each of them is wondering: what could they have done?
Told in multiple perspectives—including Cassidy herself—and different timelines, this is a behind-the-scenes look into the rise and fall of a pop icon, and a penetrating examination of the dark side of celebrity and the industry that profits from it.
Social Media
Please use the hashtag #theunravelingofcassidyholmes, and tag @tlcbooktours, @williammorrowbooks, and @elissareads.

Purchase Links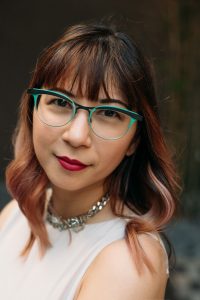 About Elissa R. Sloan
Elissa R. Sloan is a Texas-native Japanese-American with a penchant for reading books and celebrity gossip. She lives in Austin with her husband and two cats in a house with a rolling library ladder. The Unraveling of Cassidy Holmes is her debut novel.
Find out more about Elissa at her website, and connect with her on Instagram.
Instagram Features
Tuesday, September 1st: Instagram: @kraysbookclub
Wednesday, September 2nd: Instagram: @reallyintothis
Friday, September 4th: Instagram: @notinjersey
Saturday, September 5th: Instagram: @never.enough.novels
Monday, September 7th: Instagram: @readingmama_reviews
Thursday, September 10th: Instagram: @lavieestbooks
Saturday, September 19th: Instagram: @itsabookishworld_