___________________________
From beloved international bestselling author Hannah Richell comes a spellbinding novel about the secrets brought to the surface when a large family gathers for a wedding.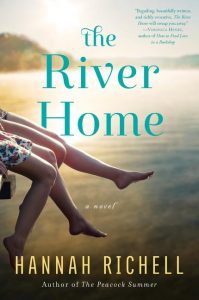 The River Home by Hannah Richell
Can the damage of the past ever be healed?
In their ramshackle Somerset home, with its lush gardens running down to the river, the Sorrells have gathered for a last-minute wedding—an occasion that is met with trepidation by each member of the family.
Lucy, the bride, has begged her loved ones to attend—not telling them that she has some important news to share once they've gathered. Her prodigal baby sister, Margot, who left home after a devastating argument with their mother, reluctantly agrees, though their family home is the site of so much pain for her. Meanwhile, their eldest sister, Eve, has thrown herself into a tailspin planning the details of the wedding—anything to distract herself from how her own life is unraveling—and their long-separated artist parents are forced to play the roles of cheerful hosts through gritted teeth.
As the Sorrells come together for a week of celebration and confrontation, their painful memories are revisited and their relationships stretched to the breaking point.
Moving, poignant, and unforgettable, The River Home showcases once again Hannah Richell's talent for creating characters readers can relate to—and telling stories that linger in the mind long after the final page.

Purchase Links
___________________________
One of Travel + Leisure's most anticipated books of summer 2020.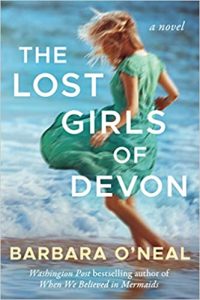 The Lost Girls of Devon by Barbara O'Neal
From the Washington Post and Amazon Charts bestselling author of When We Believed in Mermaids comes a story of four generations of women grappling with family betrayals and long-buried secrets.
It's been years since Zoe Fairchild has been to the small Devon village of her birth, but the wounds she suffered there still ache. When she learns that her old friend and grandmother's caretaker has gone missing, Zoe and her fifteen-year-old daughter return to England to help.
Zoe dreads seeing her estranged mother, who left when Zoe was seven to travel the world. As the four generations of women reunite, the emotional pain of the past is awakened. And to complicate matters further, Zoe must also confront the ex-boyfriend she betrayed many years before.
Anxieties spike when tragedy befalls another woman in the village. As the mystery turns more sinister, new grief melds with old betrayal. Now the four Fairchild women will be tested in ways they couldn't imagine as they contend with dangers within and without, desperate to heal themselves and their relationships with each other.

Purchase Links
___________________________
From the star of Say Yes to the Dress: Atlanta, now filming its eleventh season for TLC, comes a book and a life-makeover movement for women approaching fifty and beyond.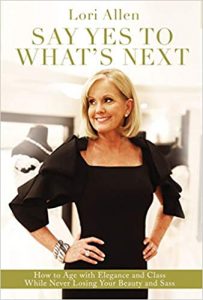 Say Yes to What's Next by Lori Allen
Move over, girlfriend, Lori Allen is here to help you say yes to what's next! Star of Say Yes to the Dress: Atlanta, Lori Allen uses her confidence, wisdom, and signature humor not only to help young brides on their most important day ever but also to model to them and their mothers how to live out the coming years as the best of their lives.
Lori Allen is owner/operator of one of the biggest and busiest bridal mega-salons in the country, Atlanta's Bridals by Lori. But she's also a wife, mother, grandmother, and breast cancer survivor.
Whether you're feeling invisible, disappearing into the fabric of your couch a little more every year, or simply being indecisive about what's next, Lori offers herself as the poster child of what to do, not do, and how to see your way through the unexpected.
In Say Yes to What's Next she addresses essential issues, such as
don't let yourself go,
marriage is awesome, but it's no fairytale,
keep your mouth shut and your heart open to your kids (and they'll bring you grandkids),
make time to parent your parents,
maintain a close circle of girlfriends,
get off the couch and live your passion,
take charge of your money, and
what to do when life gives you a faceplant.
Say Yes to What's Next is a life makeover and therapy session from a relatable you-can-and-you-should-do-this straight-shooter as Lori helps women shape their own futures with confidence, style, and sass.

Purchase Links
___________________________
Dare to dream, and you can change your world.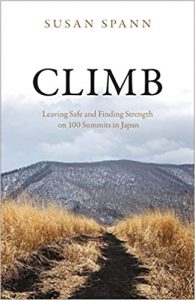 Climb by Susan Spann
The inspiring memoir of a middle-aged woman who decided to break free from fear and climb one hundred Japanese mountains in a single year, even after an aggressive cancer threatened to derail her dream.
After more than forty years of living "safe and scared," California attorney and mystery author Susan Spann decided to face her fears and climb one hundred of Japan's most famous mountains, inspired by a classic list of hyakumeizan peaks. But after an unexpected cancer diagnosis forced her to confront her deepest fears, the mountains of Japan became the setting for an even more transformative journey, from pain and fear to a new life fueled by hope, confidence, and strength.
This immersive, inspiring, and witty page-turner captures the terrifying lows and breathtaking highs of a woman's journey from timidity to confidence, cancer to healing, and regret to joy, as she breaks the mental and physical chains that once prevented her from living out her dreams. Susan chronicles her journey with an insightful, often humorous eye for not only her travels across Japan, but the culture, food, nature, and obstacles she encountered along the way, and complements her honest and vivid prose with breathtaking personal photographs.

Purchase Links
___________________________

Please fill out our super short registration form (click the "Enter Now" button above) by August 31st for a chance to win a set of up to ten copies of one of these great books for your book club! We will randomly choose a winner at the end of the month. This giveaway is open to clubs in the US only (our apologies to friends in other countries). 
Best of luck!
We 
LOVE

 Book Clubs!