About Lucky's Beach
• Paperback: 448 pages
• Publisher: William Morrow Paperbacks (June 30, 2020)
New York Times bestselling author Shelley Noble takes her readers on another beach adventure where a young woman discovers the power of family and forgiveness.
School teacher Julie Barlow and her two best friends, Beth and Aggie, are looking forward to an adults only beach vacation. Julie also plans to use the time to figure out why her perfectly planned life has gone terribly amiss. They've barely hit the road when a frantic call from Julie's mother hijacks their best laid plans. Uncle Tony "Lucky" Costa is missing. Always entertaining, often irresponsible, never reliable, Uncle Lucky was a favorite with her friends.  For Julie, for whom he'd been a sometimes surrogate father, not so much.
Her mother wants them to take a "teeny" detour to look for the irascible retired surfer. Julie makes excuses. After all, she was the one who decided she never wanted to see Lucky again. Overruled in this as she is in much of her life, Julie and her friends detour to   Lucky's latest scheme, Lucky's Beach Bar and Grill.  They find it tucked away in a quaint coastal town on the Delaware coast. With a crescent beach of white sand, large waves, plenty of tanned young men, a lively night life, it's a perfect beach getaway.
Beth and Aggie see good times ahead, Julie is determined to get through it as quickly as possible. But that will change as she gets to know Lucky's friends and confidantes. The taciturn bartender, the loyal housekeeper, the local fortune teller, the whole town shares a determination to protect him. But from what?
Soon Julie and her friends are swept up in an effort to save the town's—and Lucky's— most closely guarded secret. And Julie begins to see her uncle in a new light.
Julie Barlow has a few things to learn about life—and love—and sacrifice. Her lesson begins this summer at Lucky's Beach.
Social Media
Please use the hashtag #luckysbeach, and tag @tlcbooktours, @williammorrowbooks, and @shelleynobleauthor

Purchase Links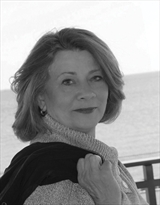 About Shelley Noble
Shelley Noble is the New York Times and USA Today bestselling author of Whisper Beach and Beach Colors. Other titles include Stargazey Point, Breakwater Bay, and Forever Beach—a story of foster adoption in New Jersey—and four spin-off novellas. A former professional dancer and choreographer, she lives on the Jersey shore and loves to discover new beaches and indulge her passion for lighthouses and vintage carousels. Shelley is a member of Sisters in Crime, Mystery Writers of America, and Women's Fiction Writers Association.
Find out more about Shelley at her website, and connect with her on Facebook, Twitter, and Instagram.
Instagram Features
Tuesday, June 30th: Instagram: @readinggirlreviews
Thursday, July 2nd: Instagram: @read.write.coffee
Friday, July 3rd: Instagram: @reads.a.latte.thrillers
Sunday, July 5th: Instagram: @simplykelina
Monday, July 6th: Instagram: @sealedwithabook
Tuesday, July 7th: Instagram: @books_with_bethany
Wednesday, July 8th: Instagram: @sweethoneyandbrei
Thursday, July 9th: Instagram: @sarahandherbookshelves