Join us for an Instagram tour for
Mass Market Paperback: 320 Pages
Publisher: Zebra (July 28, 2020)
Attachment to the land, hard work, and community, sets the folks of Morgantown apart from the everyday, and always brings them back to the ranch—where they might even find love . . .
 
After his father decides to leave the ranch to his older brother, usually calm, steadfast Ben Miller struggles to deal with his resentment. When he's invited to develop a trail riding experience on the Morgans' dude ranch, Ben jumps at the chance. Soon he's assigned a mysterious client, an actress whose family secretly wants her removed from influences in LA. Ben's determined to teach her to fend for herself. But he quickly discovers she's more than a pampered pretty face . . .
Silver Meadow believes she's preparing for a serious dramatic role—one that will free her from her controlling parents. She's certainly not going to be controlled by Ben, especially when he takes her out in the middle of nowhere to learn how to survive. Yet gradually, far from her cell phone, Silver begins to open up to him about her life—and finds they have more in common than they thought. Soon a romance blossoms—but can a jet-setting movie star and a homebody cowboy find the best of both worlds? . . .

Purchase Links
About Kate Pearce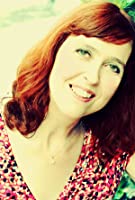 NYT and USA Today bestselling author Kate Pearce was born in England in the middle of a large family of girls and quickly found that her imagination was far more interesting than real life. After acquiring a degree in history and barely escaping from the British Civil Service alive, she moved to California and then to Hawaii with her kids and her husband and set about reinventing herself as a romance writer.
She is known for both her unconventional heroes and her joy at subverting romance clichés. In her spare time she self publishes science fiction erotic romance, historical romance, and whatever else she can imagine.
Connect with Kate
Instagram:
Monday, July 27th: @angelareadsbooks
Monday, July 27th: @goodvibesgoodbooks
Tuesday, July 28th: @books_faith_love
Wednesday, July 29th: @livingmybestbooklife
Thursday, July 30th: @lovetolovebooks
Thursday, July 30th: @thebooknerdigan
Friday, July 31st: @thegraduatedbookworm
Saturday, August 1st: @metalheadreader
Sunday, August 2nd: @addie.yoder
Tuesday, August 4th: @bookmama789