___________________________
From the beloved author of Half of What You Hear, a perceptive and poignant novel about a woman discovering that her expertise can only get her so far in matters of the heart.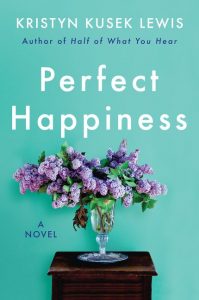 Perfect Happiness by Kristyn Kusek Lewis
Charlotte McGanley knows happiness. Just ask anyone who's read Perfect Happiness, her bestselling book about how she, a busy mother and professor, used her no-nonsense positive psychology research to brighten her own life. She always pictured her career beginning and ending in the halls of academia, but now she's become a bit of a self-help guru. No one is more surprised by this than Charlotte herself, who has secretly never been more miserable.
Though her husband of many years, Jason, is her partner in all things, she finds more gratification most evenings in a glass (or three) of Chardonnay or another scroll through her Instagram feed. Meanwhile, their daughter, Birdie, is feeling the pressure of being her high school's star tennis player, keeping up her GPA, and having her first boyfriend—and Charlotte, despite all her expertise, has no idea how to help her.
As Charlotte preaches the gospel of happiness to her undergraduate students, audiences across the country, and her own online followers, she's faced with some tough questions: What is happiness when the family you've nurtured starts to fall apart in front of your eyes? When your daughter seems determined to self-destruct? When the man you thought you'd spend the rest of your life with—and took for granted because of it—gets fed up? When all of the tools that you push to your loyal followers just don't seem to work?
In this bittersweet family love story, Kristyn Kusek Lewis explores how easy it is to lose connection with the people closest to us, and what happens when we try to find our way back.

Purchase Links
___________________________
"Susan May Warren whips up a maelstrom of action."—James R. Hannibal, multi-award-winning author of Chasing the White Lion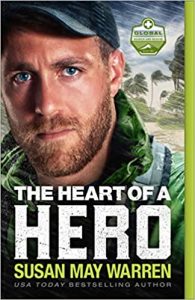 The Heart of a Hero by Susan May Warren
Jake Silver may not be able to put the memories of his time as a sniper and Navy SEAL behind him, but at least he can put his skills to use as a part of the Jones Inc. rescue team. Saving the life of pediatric heart surgeon Dr. Aria Sinclair on Denali helped too. Now he can't get her out of his head, and when he hears she is in the path of a hurricane down in Key West he can't help but jump on a plane to rescue her.
Aria has dedicated her life to helping children born with defective hearts. After all, she was one of those children. Now driven to succeed, she lives a lonely, stressful life. One she would have lost on Denali if it hadn't been for Jake. Jake is exciting and handsome, but he's also dangerous, and she's already lost one person she loves. She can't bear it again.
It's not until she finds herself trapped in the middle of a category 4 hurricane that she can admit she needs Jake desperately. With their very survival in the balance, can they hope for a second chance at life . . . and love?

Purchase Links
___________________________

Please fill out our super short registration form (click the "Enter Now" button above) by June 30th for a chance to win a set of up to ten copies of one of these great books for your book club! We will randomly choose a winner at the end of the month. This giveaway is open to clubs in the US only (our apologies to friends in other countries). 
Best of luck!
We 
LOVE

 Book Clubs!