About 500 Miles From You
• Paperback: 432 pages
• Publisher: William Morrow Paperbacks (June 9, 2020)
New York Times bestselling author Jenny Colgan returns to the beloved Scottish Highland town of Kirrinfief, which readers first met in The Bookshop on the Shore, and adds a dash of London's bustling urban landscape. 
Lissa, is a nurse in a gritty, hectic London neighborhood. Always terribly competent and good at keeping it all together, she's been suffering quietly with PTSD after helping to save the victim of a shocking crime. Her supervisor quietly arranges for Lissa to spend a few months doing a much less demanding job in the little town of Kirrinfeif in the Scottish Highlands, hoping that the change of scenery will help her heal. Lissa will be swapping places with Cormack, an Army veteran who's Kirrinfeif's easygoing nurse/paramedic/all-purpose medical man. Lissa's never experienced small-town life, and Cormack's never spent more than a day in a big city, but it seems like a swap that would do them both some good.
In London, the gentle Cormack is a fish out of the water; in Kirrinfief, the dynamic Lissa finds it hard to adjust to the quiet. But these two strangers are now in constant contact, taking over each other's patients, endlessly emailing about anything and everything. Lissa and Cormack discover a new depth of feeling…for their profession and for each other.
But what will happen when Lissa and Cormack finally meet…?
Social Media
Please use the hashtag #500milesfromyou, and tag @tlcbooktours, williammorrowbooks, and @jennycolganbooks.

Purchase Links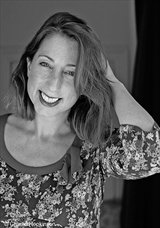 About Jenny Colgan
Jenny Colgan is the New York Times-bestselling author of numerous novels, including The Bookshop on the Corner, Little Beach Street Bakery, and Summer at Little Beach Street Bakery, all international bestsellers. Jenny is married with three children and lives in London and Scotland.
Find out more about Jenny at her website, and connect with her on Facebook, Twitter, and Instagram.
Instagram Features
Tuesday, June 9th: Instagram: @beritaudiokilledthebookmark
Wednesday, June 10th: Instagram: @wordswithrach
Thursday, June 11th: Instagram: @megsbookclub
Saturday, June 13th: Instagram: @readinggirlreviews
Sunday, June 14th: Instagram: @allthebooksandchocolate
Monday, June 15th: Instagram: @shelovesthepages
Tuesday, June 16th: Instagram: @simplykelina
Wednesday, June 17th: Instagram: @books_with_bethany
Thursday, June 18th: Instagram: @all.thats.lovely