About The Lightness
• Hardcover: 288 pages
• Publisher: William Morrow (June 16, 2020)
"The Lightness could be the love child of Donna Tartt and Tana French, but its savage, glittering magic is all Emily Temple's own." —Chloe Benjamin, New York Times bestselling author of The Immortalists 
A Most Anticipated Novel by Marie Claire • Elle • WSJ. Magazine • Glamour • Vulture • Bustle • Buzzfeed • The Millions • The Philadelphia Inquirer • The Daily Beast • Refinery 29 • Publishers Weekly • Literary Hub • Electric Literature • and more!
A stylish, stunningly precise, and suspenseful meditation on adolescent desire, female friendship, and the female body that shimmers with rage, wit, and fierce longing—an audacious, darkly observant, and mordantly funny literary debut for fans of Emma Cline, Ottessa Moshfegh, and Jenny Offill.
One year ago, the person Olivia adores most in the world, her father, left home for a meditation retreat in the mountains and never returned. Yearning to make sense of his shocking departure and to escape her overbearing mother—a woman as grounded as her father is mercurial—Olivia runs away from home and retraces his path to a place known as the Levitation Center.
Once there, she enrolls in their summer program for troubled teens, which Olivia refers to as "Buddhist Boot Camp for Bad Girls". Soon, she finds herself drawn into the company of a close-knit trio of girls determined to transcend their circumstances, by any means necessary. Led by the elusive and beautiful Serena, and her aloof, secretive acolytes, Janet and Laurel, the girls decide this is the summer they will finally achieve enlightenment—and learn to levitate, to defy the weight of their bodies, to experience ultimate lightness.
But as desire and danger intertwine, and Olivia comes ever closer to discovering what a body—and a girl—is capable of, it becomes increasingly clear that this is an advanced and perilous practice, and there's a chance not all of them will survive. Set over the course of one fateful summer that unfolds like a fever dream, The Lightness juxtaposes fairy tales with quantum physics, cognitive science with religious fervor, and the passions and obsessions of youth with all of these, to explore concepts as complex as faith and as simple as loving people—even though you don't, and can't, know them at all.
Social Media
Please use the hashtag #thelightness, and tag @tlcbooktours, @williammorrowbooks, and @knownemily.

Purchase Links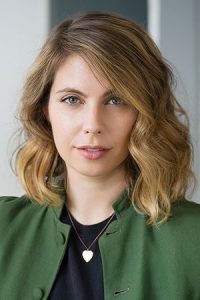 About Emily Temple
Emily Temple was born in Syracuse, New York. She earned a BA from Middlebury College and an MFA in fiction from the University of Virginia, where she was a Henry Hoyns fellow and the recipient of a Henfield Prize. Her short fiction has appeared in Colorado Review, Electric Literature's Recommended Reading, Indiana Review, Fairy Tale Review, and other publications. She lives in Brooklyn, where she is a senior editor at Literary Hub. This is her first novel.
Find out more about Emily at her website, and connect with her on Instagram.
Instagram Features
Tuesday, June 16th: Instagram: @crystals_library
Wednesday, June 17th: Instagram: @readwithwine
Friday, June 19th: Instagram: @tarheelreader
Saturday, June 20th: Instagram: @beauty_andthebook_
Monday, June 22nd: Instagram: @bookswithbean
Tuesday, June 23rd: Instagram: @michellereadsbooks
Wednesday, June 24th: Instagram: @oddandbookish
Thursday, June 25th: Instagram: @bluntscissorsbookreviews
Friday, June 26th: Instagram: @somekindofalibrary
Sunday, June 28th: Instagram: @my_read_feed
Saturday, July 11th: Instagram: @happiestwhenreading
Saturday, July 18th: Instagram: @strandedinbooks