Join us for an Instagram tour for
Hardcover: 336 Pages
Publisher: Kensington (June 30, 2020)
Wild-hearted Kentuckian Stella Kendrick cautiously navigates the strict demands of British high society as the future Lady of Morrington Hall. But when petty scandals lead to bloody murder, her outspoken nature could be all that keeps her alive . . .
Following a whirlwind engagement to Viscount "Lyndy" Lyndhurst, Stella is finding her footing within an elite social circle in picturesque rural England. Except tea time with refined friends can be more dangerous than etiquette faux pas—especially in the company of Lady Philippa, the woman Lyndy was once set to marry, and her husband, the ostentatious Lord Fairbrother . . .
Outrage erupts and accusations fly after Lord Fairbrother's pony wins best in breed for the seventh consecutive year. The man has his share of secrets and adversaries, but Stella and Lyndy are in for a brutal shock when they discover his body floating in the river during a quiet morning fishing trip . . .
Suddenly unwelcome around hardly-grieving Lady Philippa and Lyndy's endlessly critical mother, Stella faces the bitter reality that she may always be an outsider—and one of her trusted new acquaintances may be a calculating killer. Now, Stella and her fiancé must fight against the current to catch the culprit, before they're the next couple torn apart by tragedy.

Purchase Links
About Clara McKenna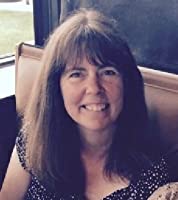 Clara McKenna has a B.A. in Biology from Wells College and a M.L.I.S in Library and Information Studies from McGill University.  She is the founding member of Sleuths in Time, a cooperative group of historical mystery writers who encourage and promote each other's work. She is also a member of Mystery Writers of America and Sisters in Crime.
Connect with Clara
Instagram tour:
Monday, June 29th: @rendezvous_with_reading
Monday, June 29th: @jennblogsbooks
Monday, June 29th: @thelit_bitch
Tuesday, June 30th: @thephdivabooks
Wednesday, July 1st: @lowkey.bookish
Thursday, July 2nd: @elysa_reads
Thursday, July 2nd: @_ebl_inc_
Friday, July 3rd: @inmycozynook
Sunday, July 5th: @nurse_bookie
Monday, July 6th: @pnwbookworm