About One by One by One
• Hardcover: 352 pages
• Publisher: HarperOne (June 2, 2020)
In the spirit of Tracy Kidder's Mountains Beyond Mountains, and joining the ranks of works by Bryan Stevenson, Matthew Desmond, Abraham Verghese and Oliver Sachs, the inspiring story of a young American neurologist's struggle to make a difference in Haiti by treating one patient—a story of social justice, clashing cultures, and what it means to treat strangers as members of our family.
Dr. Aaron Berkowitz had just finished his neurology training when he was sent to Haiti on his first assignment with Partners In Health. There, he meets Janel, a 23-year-old man with the largest brain tumor Berkowitz or any of his neurosurgeon colleagues at Harvard Medical School have ever seen. Determined to live up to Partners In Health's mission statement "to bring the benefits of modern medical science to those most in need," Berkowitz tries to save Janel's life by bringing him back to Boston for a 12-hour surgery.  In One by One by One, Berkowitz traces what he learns and grapples with as a young doctor trying to bridge the gap between one of the world's richest countries and one of the world's poorest to make the first big save of his medical career.
As Janel and Berkowitz travel back and forth between the high-tech neurosurgical operating rooms of Harvard's hospitals and Janel's dirt-floored hut in rural Haiti, they face countless heart-wrenching twists and turns. Janel remains comatose for months after his surgery. It's not clear he will recover enough to return to Haiti and be able to survive there. So he goes for a second brain surgery, a third, a fourth. Berkowitz brings the reader to the front lines of global humanitarian work as he struggles to overcome the challenges that arise when well-meaning intentions give rise to unintended consequences, when cultures and belief systems clash, and when it's not clear what the right thing to do is, let alone the right way to do it.
One by One by One is a gripping account of the triumphs, tragedies, and confusing spaces in between as an idealistic young doctor learns the hard but necessary lessons of living by the Haitian proverb tout moun se moun—every person is a person.
Social Media
Please use the hashtag #onebyonebyone, and tag @tlcbooktours and @harperonebooks.

Purchase Links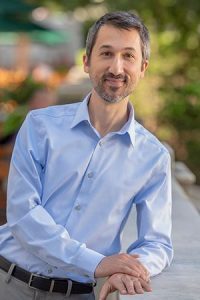 About Aaron Berkowitz
Aaron Berkowitz, MD PhD, is the founding Director of Global Health at Kaiser Permanente Medical School and was the founding Director of the Global Neurology Program at Brigham and Women's Hospital in Boston and directed the first-year Mind-Brain-Behavior course at Harvard Medical School. As a consultant for Partners In Health and advisor to Doctors Without Borders, Dr. Berkowitz has worked in Haiti, Malawi, Vietnam, and on the Navajo reservation in New Mexico. He lives in Pasadena, CA.
Instagram Features
Tuesday, June 2nd: Instagram: @readingnookreviews
Wednesday, June 3rd: Instagram: @thatbookishbrunette
Friday, June 5th: Instagram: @sealedwithabook
Saturday, June 6th: Instagram: @thereadingcornerforall
Sunday, June 7th: Instagram: @happiestwhenreading
Sunday, June 7th: Instagram: @pocketsized_pageturner
Tuesday, June 9th: Instagram: @lowkey.bookish
Thursday, June 11th: Instagram: @reading.wanderwoman
Friday, June 12th: Instagram: @readinginthe419
Monday, June 15th: Instagram: @compulsivereadersblog