Join us for an Instagram tour for
Paperback: 320 pages
Publisher: Zebra (May 26, 2020)
From Jodi Thomas, New York Times bestselling author of Mornings on Main and Indigo Lake, comes this heartwarming new novel set in Honey Creek, Texas—a small town where family bonds and legends run deep, and friendship and love are always close at hand . . .
Piper Jane Mackenzie, mayor of Honey Creek, won't let a major scandal rip her quirky hometown apart, or jeopardize her dream of one day running for higher office. So she's willing to welcome undercover detective Colby McBride, hired to help solve the mystery behind her wannabe fiancé's disappearance. Colby's cover? That he is an old boyfriend now begging Piper for a second chance—always when there are plenty of townsfolk around to witness his shenanigans.
Piper hardly knows whether to laugh or cry, especially when she finds herself drawn to the handsome rascal. He's not the only newcomer she has to deal with. There's a new interim preacher in town, Sam Cassidy. Drifting from one assignment to another since his one love died, Sam isn't sure he's the right fit for Honey Creek. But as Piper knows, this is a place chock-full of surprises. And if she can keep her town—and her heart—from going completely off the rails, there may be a sweet, unexpected future in store . . .

Purchase Links
About Jodi Thomas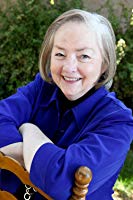 New York Times and USA Today's bestselling author Jodi Thomas has published over 30 books in both the historical romance and contemporary genres, the majority of which are set in her home state of Texas. Publishers Weekly calls her novels "Distinctive…Memorable," and that in her stories "[tension] rides high, mixed with humor and kisses more passionate than most full-on love scenes." In 2006, Romance Writers of America (RITA) inducted Thomas into the RWA Hall of Fame for winning her third RITA for THE TEXAN'S REWARD. She also received the National Readers' Choice Award in 2009 for TWISTED CREEK (2008) and TALL, DARK, AND TEXAN (2008). While continuing to work as a novelist, Thomas also functions as Writer in Residence at the West Texas A&M University campus, where she inspires students and alumni in their own writing pursuits.
Connect with Jodi
Instagram tour:
Monday, May 25th: @lowkey.bookish
Tuesday, May 26th: @thecurvysavante
Wednesday, May 27th: @angelareadsbooks
Wednesday, May 27th: @readingmama_reviews
Thursday, May 28th: @pnwbookworm
Friday, May 29th: @readingfortheweekend
Saturday, May 30th: @biblio.jojo
Saturday, May 30th: @thereadingchemist
Sunday, May 31st: @nurse_bookie
Monday, June 1st: @mixed_matched_socks
Monday, June 1st: @catsonbookshelves