About Growing Old
• Hardcover: 224 pages
• Publisher: HarperOne (April 28, 2020)
From the revered author of the bestselling The Hidden Life of Dogs, a witty, engaging, life-affirming account of the joy, strength, and wisdom that comes with age.
Elizabeth Marshall Thomas has spent a lifetime observing the natural world, chronicling the customs of pre-contact hunter-gatherers and the secret lives of deer and dogs. In this book, the capstone of her long career, Thomas, now eighty-eight, turns her keen eye to her own life. The result is an account of growing old that is at once funny and charming and intimate and profound, both a memoir and a life-affirming map all of us may follow to embrace our later years with grace and dignity.
A charmingly intimate account and a broad look at the social and historical traditions related to aging, Growing Old explores a wide range of issues connected with growing older, from stereotypes of the elderly as burdensome to the methods of burial humans have used throughout history to how to deal with a concerned neighbor who assumes you're buying cat food to eat for dinner.
Written with the wit of Nora Ephron's I Feel Bad About My Neck and the lyrical beauty and serene wisdom of When Breath Becomes Air, Growing Old is an expansive and deeply personal paean to the beauty and the brevity of life that offers understanding for everyone, regardless of age.
Social Media
Please use the hashtag #growingold, #growingoldgracefully, and #aginggracefully, and tag @tlcbooktours and @harperonebooks.

Purchase Links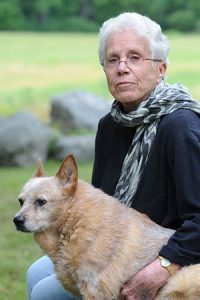 About Elizabeth Marshall Thomas
One of the most widely read American anthropologists, Elizabeth Marshall Thomas has observed dogs, cats, and elephants during her half-century-long career. In the 1980s Thomas studied elephants alongside Katy Payne—the scientist who discovered elephants' communication via infrasound. In 1993 Thomas wrote The Hidden Life of Dogs, a groundbreaking work of animal psychology that spent nearly a year on the New York Times bestseller list. Her book on cats, Tribe of Tiger, was also an international bestseller. She lives in Peterborough, New Hampshire, on her family's former farm, where she observes deer, bobcats, bear, and many other species of wildlife.
Find out more about Thomas at her website.
Instagram Features
Tuesday, April 28th: Instagram: @tarheelreader
Wednesday, April 29th: Instagram: @orangecountyreads
Thursday, April 30th: Instagram: @wherethereadergrows
Monday, May 4th: Instagram: @books_with_bethany
Tuesday, May 5th: Instagram: @hotcocoareads
Wednesday, May 6th: Instagram: @basicbsguide
Thursday, May 7th: Instagram: @somekindofalibrary
Friday, May 8th: Instagram: @corisaberrybook
Friday, May 15th: Instagram: @bookswritingandmore
Monday, May 11th: Instagram: @plan.read.bloom