Paperback: 336 pages
Publisher: Thomas Nelson (August 2, 2020)
A jilted bride. A struggling innkeeper. And a romantic mountain getaway that changes everything
Rising Hollywood star Mia Emerson is looking for a safe place to land in the wake of a public breakup and celebrity scandal, and she finds it in the lake town of Bluebell, North Carolina—the location of her canceled honeymoon. She wants nothing more than to hide and wait for the tabloids to die down.
Soon after her arrival at the Bluebell Inn, Mia meets Levi Bennett, who runs the inn along with his two younger sisters. Drawn to one another from the start, Mia trusts Levi to keep her location from the press, and Levi confides in Mia about the precarious financial state of the inn—a secret he's been keeping from his sisters.
When Mia and Levi discover an old journal that hints at a rare diamond necklace hidden in the inn, they set off on a treasure hunt to find the long-lost heirloom. What they don't expect to surface are feelings they thought were safely locked away. Mia and Levi must decide if falling in love again is too big a risk—or if it will uncover a treasure of its own instead.

Purchase Links
About Denise Hunter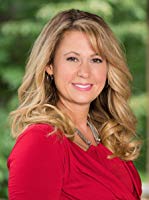 Denise Hunter is the internationally published bestselling author of more than 25 books, including A December Bride and The Convenient Groom, which have been adapted into original Hallmark Channel movies. She has won The Holt Medallion Award, The Reader's Choice Award, The Carol Award, The Foreword Book of the Year Award, and is a RITA finalist. When Denise isn't orchestrating love lives on the written page, she enjoys traveling with her family, drinking green tea, and playing drums. Denise makes her home in Indiana where she and her husband are rapidly approaching an empty nest.
Connect with Denise
Denise Hunter's TLC Book Tours TOUR STOPS:
Monday, May 18th: Read Eat Repeat and @readeatrepeat1
Tuesday, May 19th: Book Reviews and More by Kathy
Wednesday, May 20th: The Romance Dish
Thursday, May 21st: @cassies_books_reviews
Friday, May 22nd: Kritter's Ramblings
Friday, May 22nd: Christian Chick's Thoughts
Tuesday, May 26th: Audio Killed the Bookmark and @beritaudiokilledthebookmark
Wednesday, May 27th: Run Wright
Thursday, May 28th: @honeynougats.reads
Thursday, May 28th: @angelareadsbooks
Friday, May 29th: @nsiabblog
Monday, June 1st: Bewitched Bookworms
Monday, June 1st:  @nurse_bookie
Tuesday, June 2nd: Into the Hall of Books
Thursday, June 4th: Living My Best Book Life and @livingmybestbooklife
Friday, June 5th: Books and Cats and Coffee
Monday, June 8th: The OC Book Girl and @theocbookgirl
Monday, June 8th: @bluntscissorsbookreviews
Tuesday, June 9th: From the TBR Pile
Wednesday, June 10th: @megsbookclub
Thursday, June 11th: Running Through the Storms
Friday, June 12th: View from the Birdhouse
Tuesday, June 23rd: Girl Who Reads