About Girl Gone Viral
• Paperback: 400 pages
• Publisher: Avon (April 21, 2020)
In Alisha Rai's second novel in her Modern Love series, a reclusive investor goes viral, shoving her into the world's spotlight—and into the arms of the bodyguard she's been pining for…
OMG! Wouldn't it be adorable if he's her soulmate???
I don't see any wedding rings <eyes emoji>
Breaking: #CafeBae and #CuteCafeGirl went to the bathroom AT THE SAME TIME!!!
One minute, Katrina King's enjoying an innocent conversation with a random guy at a coffee shop; the next, a stranger has live-tweeted the entire encounter with a romantic meet-cute spin and #CafeBae has the world swooning. Going viral isn't easy for anyone, but Katrina has painstakingly built a private world for herself, far from her traumatic past. Besides, everyone has it all wrong…that #CafeBae bro? He isn't the man she's hungry for.
He's got a <peach emoji> to die for.
With the internet on the hunt for the identity of #CuteCafeGirl, Jas Singh, bodyguard and possessor of the most beautiful eyebrows Katrina's ever seen, offers his family's farm as a refuge. Alone with her unrequited crush feels like a recipe for hopeless longing, but Katrina craves the escape. She's resigned to being just friends with Jas–until they share a single electrifying kiss. Now she can't help but wonder if her crush may not be so unrequited after all…
Social Media
Please use the hashtag #girlgoneviral, and tag @tlcbooktours, @avonbooks, and @alisharaiwrites.

Purchase Links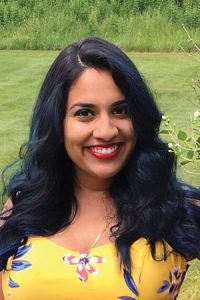 About Alisha Rai
Alisha Rai pens award-winning contemporary romances and her novels have been named Best Books of the Year by Washington Post, NPR, Amazon, Entertainment Weekly, Kirkus, and Cosmopolitan Magazine. When she's not writing, Alisha is traveling or tweeting. To find out more about her books or to sign up for her newsletter, visit www.alisharai.com.
Connect with Alisha on Twitter, Facebook, and Instagram.
Instagram Features
Tuesday, April 21st: Instagram: @readinggirlreviews
Wednesday, April 22nd: Instagram: @basicbsguide
Thursday, April 23rd: Instagram: @storiesandcoffee
Saturday, April 25th: Instagram: @mamajustwantstoread
Sunday, April 26th: Instagram: @girlsinbooks
Monday, April 27th: Instagram: @tarheelreader
Tuesday, April 28th: Instagram: @readingwithmere
Wednesday, April 29th: Instagram: @bookapotamus
Friday, May 1st: Instagram: @thephdivabooks