___________________________
From the USA TODAY bestselling author of the "heartwarming and refreshingly sweet" (Lauren Layne, New York Times bestselling author) On the Corner of Love and Hate comes a story about a baker who takes her chances on a new town…and an old love.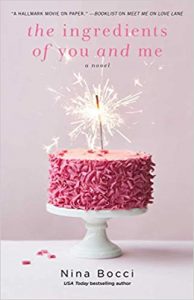 The Ingredients of You and Me by Nina Bocci
After selling her famous bakery back in New York, Parker Adams visits Hope Lake, Pennsylvania, to figure out her next steps. And soon she's wondering why she ever loved city life in the first place. Between the Golden Girls—the senior women who hold court—and Nick Arthur, her equally infuriating and charming former flame, Parker finds a community eager to help her get her mojo back.
But even though Hope Lake gives her the fresh start she's been looking for, Parker discovers that it's not so easy to start over again with Nick. Their chemistry is undeniable, but since Nick is a freshly taken man, Parker is determined to keep things platonic. With a recipe for disaster looming, Parker must cook up a new scheme, figuring out how to keep everything she's come to love before she loses it all.
Perfect for fans of Amy E. Reichert and Jenny Colgan, The Ingredients of You and Me is a scrumptious romantic comedy that lets you have your cake and eat it too.

Purchase Links
___________________________

Please fill out our super short registration form (click the "Enter Now" button above) by March 31st for a chance to win a set of up to ten copies of one of these great books for your book club! We will randomly choose a winner at the end of the month. This giveaway is open to clubs in the US only (our apologies to friends in other countries). 
Best of luck!
We 
LOVE

 Book Clubs!