___________________________
The first novel in a new series from bestselling author Nan Rossiter tells the moving story of a couple struggling to start a family and the young foster girl with a heart condition who changes their lives forever.

Promises of the Heart by Nan Rossiter
"A multi-leveled, beautifully written story that will glow in readers' hearts long after the last page is turned."—Kristan Higgins, New York Times bestselling author
Can the course that they've set for the future handle a slight detour…?
Macey and Ben Samuelson have much to be thankful for: great friends, a beautiful—if high-maintenance—Victorian house on idyllic Tybee Island, and a rock-solid marriage. The only thing missing is what they want the most. After her fifth miscarriage in six years, Macey worries that the family they've always dreamed of might be out of reach. Her sister suggests adoption, but Macey and Ben aren't interested in pursuing that path…until a three-legged Golden Retriever named Keeper wags his way into their home and their hearts.
Harper Wheaton just got kicked out of another foster home and it won't be the last if she keeps losing her temper. She's not sure why she gets mad; maybe because no family seems to want a nine-year-old girl with a heart condition. She loves her social worker, Cora, but knows that staying with her forever isn't an option. Will she ever find a family to call her own?
As a physician's assistant, Macey meets lots of kids. Harper Wheaton's a tough one, but Macey knows the little girl has already struggled more than most. It gets Macey and Ben to thinking about all the children who need homes. Then Harper goes missing, and one thing is suddenly crystal clear: life is complicated—but love doesn't have to be.

Purchase Links
___________________________
"Garnering justified comparisons to Khaled Hosseini's A Thousand Splendid Suns… Etaf Rum's debut novel is a must-read about women mustering up the bravery to follow their inner voice."   —Refinery 29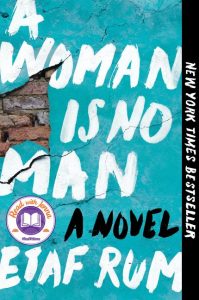 A Woman is No Man by Etaf Rum
A NEW YORK TIMES BESTSELLER
A READ WITH JENNA TODAY SHOW BOOK CLUB PICK 
A GOODREADS CHOICE AWARDS FINALIST FOR BEST FICTION AND BEST DEBUT •  BOOKBROWE'S BEST BOOK OF THE YEAR
A New York Times Book Review Editors' Choice • A Washington Post 10 Books to Read in March • A Marie Claire Best Women's Fiction of 2019 • A Newsweek Best Book of the Summer • A USA Today Best Book of the Week • A Washington Book Review Difficult-To-Put-Down Novel • A Refinery 29 Best Books of the Month • A Buzzfeed News 4 Books We Couldn't Put Down Last Month • An Electric Lit 20 Best Debuts of the First Half of 2019 • A The Millions Most Anticipated Books of 2019
In her debut novel Etaf Rum tells the story of three generations of Palestinian-American women struggling to express their individual desires within the confines of their Arab culture in the wake of shocking intimate violence in their community—a story of culture and honor, secrets and betrayals, love and violence. Set in an America at once foreign to many and staggeringly close at hand, A Woman Is No Man is an intimate glimpse into a controlling and closed cultural world, and a universal tale about family and the ways silence and shame can destroy those we have sworn to protect.
"Where I come from, we've learned to silence ourselves. We've been taught that silence will save us. Where I come from, we keep these stories to ourselves. To tell them to the outside world is unheard of—dangerous, the ultimate shame."
Palestine, 1990. Seventeen-year-old Isra prefers reading books to entertaining the suitors her father has chosen for her. Over the course of a week, the naïve and dreamy girl finds herself quickly betrothed and married, and is soon living in Brooklyn. There Isra struggles to adapt to the expectations of her oppressive mother-in-law Fareeda and strange new husband Adam, a pressure that intensifies as she begins to have children—four daughters instead of the sons Fareeda tells Isra she must bear.
Brooklyn, 2008. Eighteen-year-old Deya, Isra's oldest daughter, must meet with potential husbands at her grandmother Fareeda's insistence, though her only desire is to go to college. Deya can't help but wonder if her options would have been different had her parents survived the car crash that killed them when Deya was only eight. But her grandmother is firm on the matter: the only way to secure a worthy future for Deya is through marriage to the right man.
But fate has a will of its own, and soon Deya will find herself on an unexpected path that leads her to shocking truths about her family—knowledge that will force her to question everything she thought she knew about her parents, the past, and her own future.

Purchase Links
___________________________
From international bestselling author Mario Escobar comes a story of escape, sacrifice, and hope amid the perils of the second World War.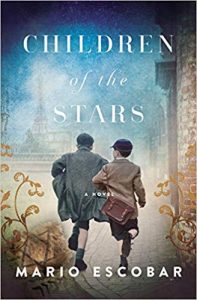 Children of the Stars by Mario Escobar
August 1942. Jacob and Moses Stein, two young Jewish brothers, are staying with their aunt in Paris amid the Nazi occupation. The boys' parents, well-known German playwrights, have left the brothers in their aunt's care until they can find safe harbor for their family. But before the Steins can reunite, a great and terrifying roundup occurs. The French gendarmes, under Nazi order, arrest the boys and take them to the Vélodrome d'Hiver—a massive, bleak structure in Paris where thousands of France's Jews are being forcibly detained.
Jacob and Moses know they must flee in order to survive, but they only have a set of letters sent from the south of France to guide them to their parents. Danger lurks around every corner as the boys, with nothing but each other, trek across the occupied country. Along their remarkable journey, they meet strangers and brave souls who put themselves at risk to protect the children—some of whom pay the ultimate price for helping these young refugees of war.
This inspiring novel, now available for the first time in English, demonstrates the power of family and the endurance of the human spirit—even through the darkest moments of human history.

Purchase Links
___________________________

Please fill out our super short registration form (click the "Enter Now" button above) by February 29th for a chance to win a set of up to ten copies of one of these great books for your book club! We will randomly choose a winner at the end of the month. This giveaway is open to clubs in the US only (our apologies to friends in other countries). 
Best of luck!
We 
LOVE

 Book Clubs!