___________________________
Jess Montgomery showcases her skills as a storyteller in The Hollows: a powerful, big-hearted and exquisitely written follow-up to her highly acclaimed debut The Widows.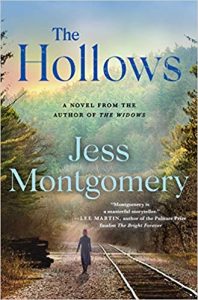 The Hollows by Jess Montgomery
Ohio, 1926: For many years, the railroad track in Moonvale Tunnel has been used as a shortcut through the Appalachian hills. When an elderly woman is killed walking along the tracks, the brakeman tells tales of seeing a ghostly female figure dressed all in white.
Newly elected Sheriff Lily Ross is called on to the case to dispel the myths. With the help of her friends Marvena Whitcomb and Hildy Cooper, Lily follows the woman's trail to The Hollows–a notorious asylum–and they begin to expose dark secrets long-hidden by time and the mountains.

Purchase Links
___________________________

Please fill out our super short registration form (click the "Enter Now" button above) by January 31st for a chance to win a set of up to ten copies of  The Hollows for your book club! We will randomly choose a winner at the end of the month. This giveaway is open to clubs in the US only (our apologies to friends in other countries). 
Best of luck!
We 
LOVE

 Book Clubs!