Join us for an Instagram tour for
Hardcover: 352 Pages
Publisher: Blink (February 11, 2020)
Wallflowers. Beauty queens. Film buffs. Drama queens. Have you ever wondered what it would be like to spend a day in her shoes? Two estranged cousins—geeky horror movie fanatic Ricki and makeup guru Lana—accidentally switch bodies for a fateful summer road trip that is part Freaky Friday, part romcom, and all heart.
Ricki has one goal: save the Starlight Drive-in movie theater from going dark forever. Okay, make that two goals … she may also want a first kiss from her cinema-rescuing partner and major crush, Jake. Lana definitely has only one goal: grow her online makeup channel to keep her momager off her back, even if the posts attract ugly internet trolls.
The two cousins couldn't be more different, but their opposite personalities come crashing to a head when their aunt gifts the girls a vintage cotton-candy-pink convertible. To share. Ricki wants the convertible for the drive-in's grand reopening, but it's the same day as Digifest, a huge event where Lana needs to shine. After a major fight and a minor electric shock while wrestling over the wheel, Ricki wakes up as Lana, and Lana wakes up as Ricki.
Ricki and Lana have only a day to un-Freaky Friday themselves, a task made even more difficult as they try to keep up appearances on Lana's channel and with Ricki's hopefully-soon-to-be-kissed crush. But it turns out experiencing a day as each other—with a mini road trip and Chihuahua wrangling—may be the one thing that help the cousins see each other and themselves more clearly.

Purchase Links
About Laurie Boyle Crompton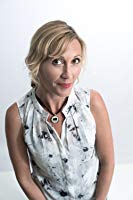 Laurie Boyle Crompton is the author of several YA books, including Adrenaline Crush and Love and Vandalism. Laurie graduated first in her class from St. John's University with a BA in English and Journalism. She has written for national magazines like Allure, survived a teaching stint at an all-boy high school, and appeared on Good Day New York several times as a toy expert. And yes, "toy expert" is an actual profession. She grew up in a small town in western PA and now lives near NYC with her family and one enormous and very fuzzy "dog toy expert" named Baxter Bear.
Connect with Laurie
Instagram tour:
Wednesday, February 12th: @laceybooklovers
Thursday, February 13th: @contemporarily_yours
Thursday, February 13th: @amanda.the.bookish
Thursday, February 13th: @phdivabooks
Saturday, February 15th: @my_book_journey
Saturday, February 15th: @beauty_in_books17
Sunday, February 16th: @bookishconnoisseur
Sunday, February 16th: @dropandgivemenerdy
Monday, February 17th: @girlsinbooks
Friday, March 6: @diamondxgirl
Saturday, March 7th: @storiesandcoffee