___________________________
From the USA TODAY bestselling author of On the Corner of Love and Hate comes a romantic comedy about a woman who grudgingly returns home to small-town Pennsylvania, only to find herself falling in love—not only with the town, but with two of its citizens.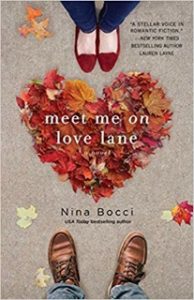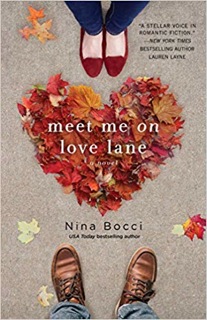 Meet Me On Love Lane by Nina Bocci
Charlotte Bishop is out of options in New York City. Fired, broke, and blacklisted by her former boss, she's forced to return to her hometown of Hope Lake, PA to lick her wounds. Although she's expecting to find a miserable place with nothing to do, she is pleasantly surprised to discover it is bustling and thriving.
She's only supposed to be in Hope Lake temporarily until she can earn enough money to move back to New York. She's not supposed to reconnect with her childhood friends or her beloved grandmother. She's not supposed to find her dream job running the local florist shop. And she's definitely not supposed to fall for not one but two of Hope Lake's golden boys: one the beloved high school English teacher, the other the charming town doctor.
With a heart torn between two men and two cities, what's a girl to do?
A perfect blend of humor and heart, Meet Me on Love Lane is the second in a new series from USA TODAY bestselling author Nina Bocci that is sure to charm fans of Josie Silver and Sally Thorne.

Purchase Links
___________________________
An unforgettable novel about the power of friendship and kindness by the New York Times bestselling author of Pay It Forward.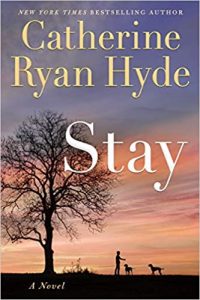 Stay by Catherine Ryan Hyde
In the summer of 1969, fourteen-year-old Lucas Painter carries a huge weight on his shoulders. His brother is fighting in Vietnam. His embattled parents are locked in a never-ending war. And his best friend, Connor, is struggling with his own family issues. To find relief from the chaos, Lucas takes long, meandering walks, and one day he veers into the woods.
There he discovers an isolated cabin and two huge dogs. Frightened, he runs. And the dogs run with him. Lucas finds unusual peace in running with the dogs, and eventually he meets their owner, Zoe Dinsmore. Closed off and haunted by a tragic past, Zoe has given up. She doesn't want to be saved. She wants out. But Lucas doesn't want her to go, and he sees an opportunity to bring more than one friend back into the light. It's either the best or worst idea he's ever had, but Lucas isn't giving up on Zoe or Connor.
Their unexpected connection might be the saving grace that Zoe thought she'd lost, that Connor needs, and that Lucas has been running toward.

Purchase Links
___________________________
Inspired by the true story of the World War I American Women's Hospital, Mercy Road is a novel about love, courage, and a female ambulance driver who risks everything.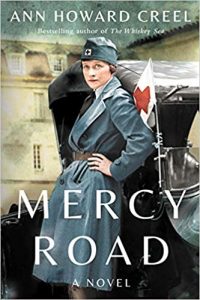 Mercy Road by Ann Howard Creel
Amazon Prime Members! Get an ebook of MERCY ROAD free until 12/19! Click HERE.
In 1917, after Arlene Favier's home burns to the ground, taking her father with it, she must find a way to support her mother and younger brother. If she doesn't succeed, they will all be impoverished. Job opportunities are scarce, but then a daring possibility arises: the American Women's Hospital needs ambulance drivers to join a trailblazing, all-female team of doctors and nurses bound for war-torn France.
On the front lines, Arlene and her fellow ambulance drivers work day and night to aid injured soldiers and civilians. In between dangerous ambulance runs, Arlene reunites with a childhood friend, Jimmy Tucker, now a soldier, who opens her heart like no one before. But she has also caught the attention of Felix Brohammer, a charismatic army captain who harbors a dark, treacherous secret.
To expose Brohammer means risking her family's future and the promise of love. Arlene must make a choice: stay in the safety of silence or take the greatest chance of her life.
"I love the way Ann Howard Creel writes—she is as at home bringing the beauty of France to life as she is dealing with the heartbreak of war. Impeccably researched, Mercy Road has all the hallmarks of fine historical fiction. Strong, memorable characters tell the unsung story of a group of remarkable women who provided invaluable help during the First World War." —Ella Carey, bestselling author of The House by the Lake

Purchase Links
___________________________
We all have dreams and sometimes they lead to the most amazing discoveries…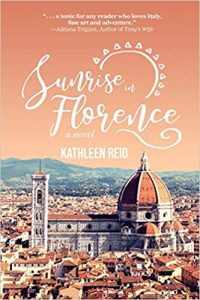 Sunrise in Florence by Kathleen Reid
Rose Maning longs to wake up every morning in Florence, Italy, to a view of the Duomo and terra cotta rooftops dancing in the sunrise. So she flies across the pond with her best friend Zoey for a fun-filled house hunt. For the first time in her people-pleasing life, schoolteacher Rose uses her savings to do exactly what she wants to do: buy an apartment and pursue painting. Rose is passionate about the life and works of the great sculptor, Michelangelo or "Il Divino," (The Divine One). She experiences her own personal renaissance abroad as she embraces everything Italian. She meets Lyon, who is sophisticated and adventurous, challenging her to see herself in a new light. A mysterious discovery changes Rose's destiny by revealing the character of the men in her life. Does Rose find something that will alter art history as we know it today?
". . . a tonic for any reader who loves Italy, fine art and adventure."–Adriana Trigiani, Author of Tony's Wife

Purchase Links
Watch the book trailer HERE
___________________________

Please fill out our super short registration form (click the "Enter Now" button above) by December 31st for a chance to win a set of up to ten copies of one of these great books for your book club! We will randomly choose a winner at the end of the month. This giveaway is open to clubs in the US only (our apologies to friends in other countries). 
Best of luck!
We 
LOVE

 Book Clubs!