___________________________
From the author of the internationally acclaimed novel The Anchoress – hailed by the New York Times Book Review as "finely drawn… a considerable achievement"- comes a profound and moving historical novel about the importance of creativity and the power of connection.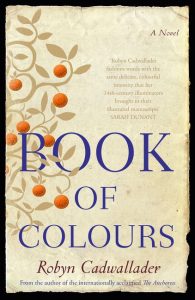 Book of Colours by Robyn Cadwallader
"Robyn Cadwallader fashions words with the same delicate, colourful intensity that her 14th-century illuminators brought to their illustrated manuscripts." SARAH DUNANT
In London, 1321, at a time of political upheaval, three people are drawn together in a small shop in Paternoster Row around the creation of a magnificent book, an illuminated manuscript of prayers. The book has been commissioned by a wealthy noblewoman, Lady Mathilda Fitzjohn, as a status symbol to showcase her family's improving station.
John Dancaster begins work on the manuscript along with his wife Gemma, a talented illuminator in her own right, although she must hide her skill as the guild forbids women. Into their lives walks the mysterious Will Asshe, a gifted artist, but a man hiding a shadowy past.
As the baronial revolt increases tensions within London and Lady Mathilda has to grapple with her changing fortunes once her husband rides off to war, completing the book becomes a fraught task. Even though the commission has seemed to answer the aspirations of each of these people, their own desires and ambitions threaten its completion. In poetic and transportive prose, Cadwallader illuminates the roiling and turbulent world of the early fourteenth century in a compelling story of power, status and the role of women in a forgotten time.
Praise for The Anchoress:
"So beautiful, so rich, so strange, unexpected and thoughtful-also suspenseful. I loved this book." Elizabeth Gilbert, author of City of Girls
"A detailed, sensuous and richly imagined shard of the past." Geraldine Brooks, author of People of the Book

Purchase Links
___________________________
He gave up everything to escape his family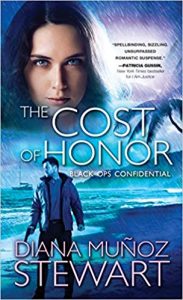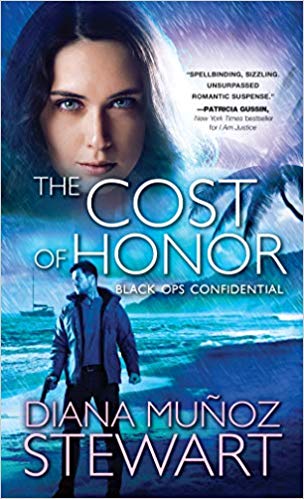 The Cost of Honor by Diana Munoz Stewart
The only male to be adopted into the notorious Parish family, Tony Parish always did right by his vigilante sisters. But when an attempt to protect one of them went horribly wrong, he had to fake his own death to escape his fanatical family. Tony set sail and ended up in Dominica?face to face with the woman of his dreams…
Now he must give up Honor to save her
After the death of her mother, Honor Silva moved to Dominica, where her family could help her heal and move on. But her activist mother left her more than money, she left her proof that could take down one of the richest and most powerful men in the world.
Tony gave up everything he thought he knew when he fled his family. But when a threat too dangerous for Tony and Honor to fight on their own closes in, he has no choice but to go to them for help. Problem is, they'll demand something in return?something that could cost Tony not just Honor, but also the love that changed him forever.
Black Ops Confidential Series:
I Am Justice (Book 1)
The Price of Grace (Book 2)
The Cost of Honor (Book 3)

Purchase Links
___________________________
Jack Hopper is holding tight to his secret, though it gets heavier by the day.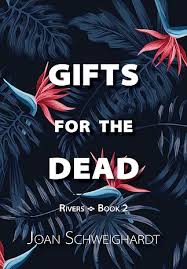 Gifts for the Dead by Joan Schweighardt
Jack Hopper is holding tight to his secret, though it gets heavier by the day. Nora Sweeny is tired of suffering losses and ready to improvise. Their relationship, based on Jack's lies and Nora's pragmatism, builds against a background that includes World War I (as experienced from the docks of Hoboken, New Jersey) and escalates when Jack and Nora travel together to the rainforest of South America seeking closure for a life-shattering event that occurred years earlier. Equal parts romance, adventure, and psychological suspense tale, Gifts for the Dead shines a floodlight on the characters' deepest yearnings and greatest fears.
Gifts for the Dead is both a standalone novel and the second installment in Schweighardt's "rivers" trilogy.
"Every elegantly crafted scene in Joan Schweighardt's Gifts for the Dead is a gift in itself––lush, perfectly detailed and fitted within a marvelous story of secrets, loss, love and adventure. This is a page-turner whose intriguing and sweeping story immerses the reader in the experience of early 20th century America while shrewdly observing a socio-political atmosphere that echoes the one we currently inhabit."
–Rocco Lo Bosco is the author of Staying Sane in Crazy Town and other nonfiction and fiction titles.

Purchase Links
___________________________

Please fill out our super short registration form (click the "Enter Now" button above) by November 30th for a chance to win a set of up to ten copies of one of these great books for your book club! We will randomly choose a winner at the end of the month. This giveaway is open to clubs in the US only (our apologies to friends in other countries). 
Best of luck!
We 
LOVE

 Book Clubs!