About Within and Without
• Paperback: 268 pages
• Publisher: Lakewater Press (May 28, 2019)
Some people go to great lengths to fit in. But how far is too far?
After her parent's divorce, sixteen-year-old Wren Newmann is forced to move from a small California town to her grandmother's vineyard, where she's convinced she'll die a shriveled, wine-country virgin. Her dad's gone AWOL, her mom's hooking up with anything in pants, and her best friend has found the love of her life. Apart from the annoying but cute Greek farmhand Panayis, who doesn't appear to notice her awkwardness or thunder thighs, Wren's life has hit an all-time low.
That is until her own dating life improves unexpectedly when Jay, Wren's long-time country crush, notices her. Yet it's as if people don't want her to be happy, with their warnings and advice that perhaps Jay isn't the right guy for her. But they don't know, and Wren's done being Beached Whale Girl. She's determined to become social, skinny, and sexy, because Jay wants her–every part of her.
Though her anxiety and secret purging sessions sing another warning that she finds hard to ignore. And when a series of personal tragedies strikes, Wren's life is flipped upside down and she's left to pick up the pieces of her broken relationships. Now, she must find the inner strength to decide if the illusion of being loved is worth sacrificing her health, and maybe even her life.
Described as "unflinching and authentic," WITHIN AND WITHOUT is a stunning debut that touches on a teenage girl's emotionally haunting journey to self acceptance "that will stay with you long after you turn the last page."
Social Media
Please use the hashtag #withinandwithout and tag @tlcbooktours and @deb.maroulis.

Purchase Links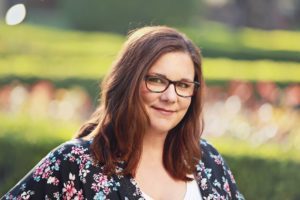 About Deborah Maroulis
Born and raised in a small town in Northern California, Deborah Maroulis is lucky enough to surround herself with the things and people she loves. She teaches English and mythology at her local community college, studies myth and depth psychology in her Ph.D. program, and writes contemporary Young Adult novels. She lives in a slightly bigger town than the one she grew up in with her husband, newly-adult children, and her daughter's very spoiled, semi-retired service dog.
Find out more about Deborah at her website, and connect with her on Facebook, Instagram, and Twitter.
Instagram Features
Sunday, November 10th: Instagram: @books_with_bethany
Monday, November 11th: Instagram: @wherethereadergrows
Wednesday, November 13th: Instagram: @shelovesthepages
Thursday, November 14th: Instagram: @ohthebooksshewillread
Sunday, November 17th: Instagram: @livingmybestbooklife
Wednesday, November 20th: Instagram: @gatticus_finch
Saturday, November 23rd: Instagram: @ve_xo