To get your book club in the mood for the holidays, we have gathered up four fabulous titles for this special CHRISTMAS IS COMING book club giveaway!
One club will win five copies of each of these titles to share with your book club members!
_________________________________________
Gathered in one volume for the very first time, here are three yuletide tales of mystery, murder, and romance, featuring your favorite sleuths . . .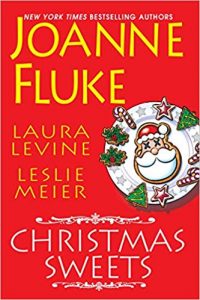 CHRISTMAS SWEETS by Joanne Fluke, Laura Levine, and Leslie Meier
 
THE TWELVE DESSERTS OF CHRISTMAS by JOANNE FLUKE
It's the perfect mix of naughty and nice when two lovestruck boarding school teachers watch six kids over Christmas break. But when someone wants the cozy couple's romance to burn out faster than a scorched fruitcake, it's Hannah Swensen to the rescue, armed with her sleuthing
skills—and twelve deliciously festive recipes . . .
NIGHTMARE ON ELF STREET by LAURA LEVINE
Aside from the mortifying costume, how bad can a gig as a mall Santa's elf be? Jaine Austen finds out when she's teamed up with the Santa from Hell. But things go from bad to worse when he's found murdered on the job—and Jaine is a suspect. Now all she wants for Christmas is to find the real killer . . .
THE CHRISTMAS THIEF by LESLIE MEIER
Elizabeth Stone is ready for a white Christmas in Tinker's Cove, Maine—until a fancy Yule ball at the Florida hotel where she works dumps snow on her plans. The sponsor's jewels have gone missing and the police are asking about her ties to a cute mystery guest. Good thing Elizabeth's mother, Lucy Stone, flew down to surprise her. ?Tis the season for a little investigating . . .
Includes Luscious Holiday Recipes!

Purchase Links
_____________________________________________
The yuletide season in Lake Eden, Minnesota, guarantees a white Christmas, delectable holiday goodies from Hannah Swensen's bakery, The Cookie Jar—and murder …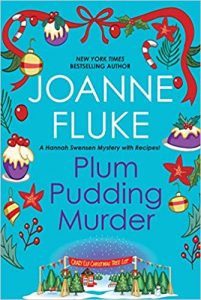 PLUM PUDDING MURDER by Joanne Fluke
 
The Cookie Jar's busiest time of the year also happens to be the most wonderful time … for Christmas cookies, Hannah's own special plum pudding—and romance! She also gets a kick out of "Lunatic Larry Jaeger's Crazy Elf Christmas Tree Lot," a kitschy carnival taking place smack-dab in the middle of the village green. But then Hannah discovers the man himself dead as a doornail in his own office …
Now, with so many suspects to investigate and the twelve days of Christmas ticking away, Hannah's running out of time to nab a murderous Scrooge who doesn't want her to see the New Year …
Includes Hannah's favorite Christmas dinner recipes!

Purchase Links
_____________________________________________
As the Moonlight Magnolia Agency revisits old memories on Christmas Eve, Granny Reid takes the reins back thirty years to the 1980s—back when she went by Stella, everyone's hair was bigger, and sweaters were colorful disasters. But murder never went out of style . . .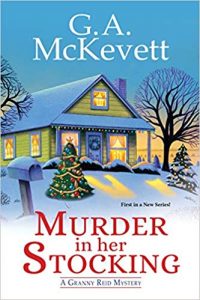 MURDER IN HER STOCKING by G. A. McKevett
Christmas has arrived in sleepy McGill, Georgia, but holiday cheer can't keep temperamental Stella Reid from swinging a rolling pin at anyone who crosses her bad side—and this season, there are plenty. First an anonymous grinch vandalizes a celebrated nativity display. Far worse, the scandalous Prissy Carr is found dead in an alley behind a tavern. With police puzzled over the murder, Stella decides to stir the local gossip pot for clues on the culprit's identity . . .
Turns out Prissy held a prominent spot on the naughty list, and suspects pile up like presents on Christmas morning. Unfortunately, the more progress Stella makes, the more fears she must confront. With a neighbor in peril and the futures of her beloved grandchildren at risk, Stella must somehow set everything straight and bring a cunning criminal to justice before December 25th . . .

Purchase Links
_____________________________________________
This holiday season, teddy bear shop manager Sasha Silverman must solve the slaying of Santa Bear . . .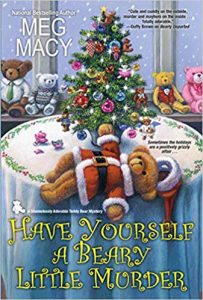 HAVE YOURSELF A BEARY LITTLE MURDER  by Meg Macy
Sasha and her sister Maddie are thrilled that the Silver Bear Shop and Factory has won the Teddy Bear Keepsake Contest, which means they get to produce a holiday specialty toy, a wizard bear named "Beary Potter." Promising to be just as magical is Silver Hollow's annual tree-lighting ceremony and village parade. Only one hitch: the parade's mascot, Santa Bear—played by Mayor Cal Bloom—is missing.
After a frantic search among the floats, Bloom is found dead. When the outfit is removed, it's clear the mayor's been electrocuted. Who zapped hizzoner and then stuffed him into his Santa Bear suit? While the police investigate the grisly crime, Sasha attempts to track down the murderer herself, with some help from the Guilty Pleasures Gossip Club. Can they wrap up this case in time for Christmas—or will Sasha meet her own shocking end?

Purchase Links
______________________________________________

Please fill out our super short registration form (click the "Enter Now" button above) by November 31st for a chance to win a set of five copies of each of these great books for your book club! We will randomly choose a winner at the end of the month. This contest is open to clubs in the US only (our apologies to friends in other countries). 
.
Best of luck!
We 
LOVE

 Book Clubs!