About 25 Days 'Til Christmas
• Paperback: 352 pages
• Publisher: William Morrow Paperbacks (October 8, 2019)
In this heartwarming, feel-good holiday novel, one woman needs to find a little inspiration in the 25 days leading up to Christmas to help her remember the magic of the season and the magic of falling in love—perfect for fans of Jenny Colgan and Josie Silver.
Kate Potter used to love Christmas. A few years ago, she would have been wrapping her presents in September and baking mince pies on Halloween, counting down the days and hours to Christmas. But that was before Kate's husband left for the army and never came home. Now she can hardly stand December at all.
Kate can't deny she's lonely, yet she doesn't think she's ready for romance. She knows that her son, Jack, needs a Christmas to remember—just like Kate needs a miracle to help her finally move forward with her life. So she's decided if there isn't a miracle on its way, she'll just have to make her own.
As Kate's advent countdown to the best Christmas ever begins, she soon realizes that even with the best laid plans, you can't plan for the unexpected. For when the path of the loneliest woman in town crosses with that of the loneliest man, these two destined hearts might find a way to save the holiday for both of them.
Social Media
Please use the hashtag #25daystilchristmas, and tag @tlcbooktours and @williammorrowbooks.

Purchase Links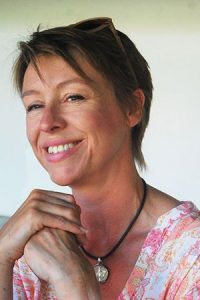 About Poppy Alexander
Poppy Alexander wrote her first book when she was five. There was a long gap in her writing career while she was at school, and after studying classical music at university, she decided the world of music was better off without her and took up public relations, campaigning, political lobbying, and a bit of journalism instead. She takes an anthropological interest in family, friends, and life in her West Sussex village (think The Archers crossed with Twin Peaks), where she lives with her husband, children, and various other pets.
Connect with Poppy on Facebook.
Instagram Features
Tuesday, October 8th: Instagram: @diaryofaclosetreader
Wednesday, October 9th: Instagram: @bookishanki
Thursday, October 10th: Instagram: @beritaudiokilledthebookmark
Friday, October 11th: Instagram: @jennsbookvibes
Saturday, October 12th: Instagram: @somekindofalibrary
Sunday, October 13th: Instagram: @book.hang.o.ver
Monday, October 14th: Instagram: @bookapotamus
Tuesday, October 15th: Instagram: @tarheelreader