___________________________
A dark secret born out of World War II lies at the heart of a Sicilian American family in this emotional and sweeping saga of guilt, revenge, and, ultimately, redemption.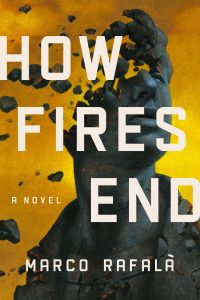 How Fires End by Marco Rafalà
After soldiers vacate the Sicilian hillside town of Melilli in the summer of 1943, the locals celebrate, giving thanks to their patron saint, Sebastian. Amid the revelry, all it takes is one fateful moment for the destiny of nine-year-old Salvatore Vassallo to change forever. When his twin brothers are killed playing with an unexploded mortar shell, Salvatore's faith is destroyed. As the family unravels, and fear ignites among their neighbors that the Vassallo name is cursed, one tragedy begets another.
Desperate to escape this haunting legacy, Salvatore accepts the help of an Italian soldier with fascist ties who ushers him and his sister, Nella, into a new beginning in America. In Middletown, Connecticut, in the immigrant neighborhood known as Little Melilli, these three struggle to build new lives for themselves. But a dangerous choice to keep their secrets hidden erupts in violence decades later. When Salvatore loses his inquisitive American-born son, David, they all learn too late the price sons pay for their fathers' wars.
Written with elegiac prose, How Fires End delves into the secret wars of men; the sins they cannot bury; and a life lived in fear of who will reveal them, who will survive them, and who will forgive them.

Purchase Links
___________________________
From the bestselling author of The Ragged Edge of Night comes a powerful and poetic novel of survival and sacrifice on the American frontier.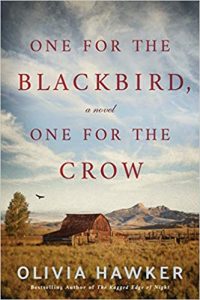 One for the Blackbird, One for the Crow by Olivia Hawker
Wyoming, 1876. For as long as they have lived on the frontier, the Bemis and Webber families have relied on each other. With no other settlers for miles, it is a matter of survival. But when Ernest Bemis finds his wife, Cora, in a compromising situation with their neighbor, he doesn't think of survival. In one impulsive moment, a man is dead, Ernest is off to prison, and the women left behind are divided by rage and remorse.
Losing her husband to Cora's indiscretion is another hardship for stoic Nettie Mae. But as a brutal Wyoming winter bears down, Cora and Nettie Mae have no choice but to come together as one family—to share the duties of working the land and raising their children. There's Nettie Mae's son, Clyde—no longer a boy, but not yet a man—who must navigate the road to adulthood without a father to guide him, and Cora's daughter, Beulah, who is as wild and untamable as her prairie home.
Bound by the uncommon threads in their lives and the challenges that lie ahead, Cora and Nettie Mae begin to forge an unexpected sisterhood. But when a love blossoms between Clyde and Beulah, bonds are once again tested, and these two resilient women must finally decide whether they can learn to trust each other—or else risk losing everything they hold dear.

Purchase Links
___________________________

Please fill out our super short registration form (click the "Enter Now" button above) by October 31st for a chance to win a set of up to ten copies of one of these great books for your book club! We will randomly choose a winner at the end of the month. This giveaway is open to clubs in the US only (our apologies to friends in other countries). 
Best of luck!
We 
LOVE

 Book Clubs!