About A Lush and Seething Hell
• Hardcover: 384 pages
• Publisher: Harper Voyager (October 8, 2019)
The award-winning and critically-acclaimed master of horror returns with a pair of chilling tales that examine the violence and depravity of the human condition.
Bringing together his acclaimed novella The Sea Dreams It Is the Sky and an all-new short novel My Heart Struck Sorrow, John Hornor Jacobs turns his fertile imagination to the evil that breeds within the human soul.
A brilliant mix of the psychological and supernatural, blending the acute insight of Roberto Bolaño and the eerie imagination of H. P. Lovecraft, The Sea Dreams It Is the Sky examines life in a South American dictatorship. Centered on the journal of a poet-in-exile and his failed attempts at translating a maddening text, it is told by a young woman trying to come to grips with a country that nearly devoured itself.
In My Heart Struck Sorrow, a librarian discovers a recording from the Deep South—which may be the musical stylings of the Devil himself.
Breathtaking and haunting, A Lush and Seething Hell is a terrifying and exhilarating journey into the darkness, an odyssey into the deepest reaches of ourselves that compels us to confront secrets best left hidden.
Social Media
Please use the hashtag #alushandseethinghell, and tag @tlcbooktours, @harpervoyagerus, and @johnhornorjacobs.

Purchase Links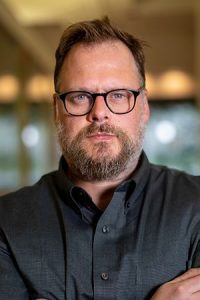 About John Hornor Jacobs
John Hornor Jacobs' first novel, Southern Gods, was shortlisted for the Bram Stoker Award for First Novel. His young adult series, The Incarcerado Trilogy comprised of The Twelve-Fingered Boy, The Shibboleth, and The Conformity, was described by Cory Doctorow of Boing Boing as "amazing" and received a starred Booklist review. His Fisk & Shoe fantasy series composed of The Incorruptibles, Foreign Devils, and Infernal Machines has thrice been shortlisted for the David Gemmell Award and was described by Patrick Rothfuss like so: "One part ancient Rome, two parts wild west, one part Faust. A pinch of Tolkien, of Lovecraft, of Dante. This is strange alchemy, a recipe I've never seen before. I wish more books were as fresh and brave as this." His fiction has appeared in Playboy Magazine, Cemetery Dance, Apex Magazine.
Find out more about John at his website, and follow him on Twitter and Instagram.
Instagram Features
Tuesday, October 8th: Instagram: @shereadswithcats
Wednesday, October 9th: Instagram: @wherethereadergrows
Thursday, October 10th: Instagram: @meganthemeganerd
Saturday, October 12th: Instagram: @jessicamap
Monday, October 14th: Instagram: @crystals_library
Monday, October 21st: Instagram: @beritaudiokilledthebookmark