To get your book club in the mood for the holidays, we have gathered up some wonderful titles for this special CHRISTMAS IS COMING book club giveaway!
______________________________________________
From the writer of the Netflix sensation, A Christmas Prince, and Christmas Camp, the movie and novel, comes a heartwarming new Christmas story, Finding Christmas, showing how sometimes the detour in your journey is the path to true love.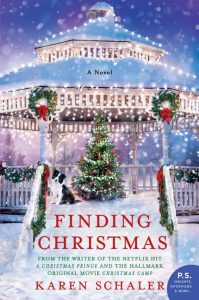 Finding Christmas by Karen Schaler
With all the glittering decorations, twinkling lights, snow angels, gingerbread men and mistletoe, Christmas is Emmie's first love.
This year, she can't wait to share her favorite Christmas traditions with her boyfriend, Grant. She thinks he's "the one." So when Grant's hectic work schedule has him more "Bah Humbug" than "Ho, Ho, Ho," Emmie creates a holiday-themed scavenger hunt to help him find his Christmas spirit. At the end of the journey, Grant will arrive at the charming town of Christmas Point where she's planned a romantic weekend filled with holiday activities.
But Emmie's plan backfires when a mix-up has the wrong guy following her clues! Sam, a best-selling mystery writer, thinks Emmie's clever Christmas riddles are from his agent, who is trying to help him get over his epic writer's block.
When he arrives at Christmas Point and finds the stunned Emmie, he immediately feels she's someone special, but she can't see beyond the fact that the wrong guy has shown up. Inspired by the small, charming town, Sam decides to stay and convinces Emmie to join him in a little holiday fun while she waits for Grant.
When Grant finally shows up, Emmie is disappointed to discover he's not enjoying the activities she planned and can't help wonder if he's really the one for her. She also can't get Sam out of her mind and all the great times they had together. With Christmas coming fast, Emmie will need the magic of the season to help steer her in the direction of true love…

Purchase Links
______________________________________________
Following a year in the life of a twenty-something American woman who falls hard for her London flat mate, this clever, fun, and unforgettable romantic comedy is the perfect feel-good holiday read.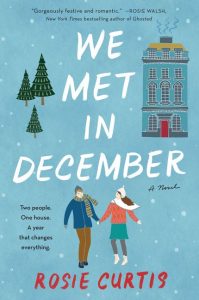 We Met in December by Rosie Curtis
Two people. One house. A year that changes everything. 
Twenty-nine-year-old Jess is following her dream and moving to London. It's December, and she's taking a room in a crumbling, but grand, Notting Hill house-share with four virtual strangers. On her first night, Jess meets Alex, the guy sharing her floor, at a Christmas dinner hosted by her landlord. They don't kiss, but as far as Jess is concerned the connection is clear. She starts planning how they will knock down the wall between them to spend more time together.
But when Jess returns from a two-week Christmas holiday, she finds Alex has started dating someone else—beautiful Emma, who lives on the floor above them. Now Jess faces a year of bumping into (hell, sharing a bathroom with) the man of her dreams…and the woman of his.

Purchase Links
______________________________________________
Deck the halls and bar the doors! We're in for a long winter's night.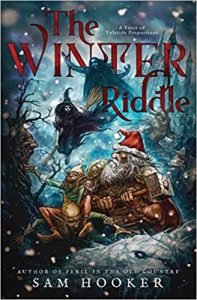 The Winter Riddle by Sam Hooker
Once upon a time, the North Pole was a very noisy place. A kingdom cowered under the maniacal rule of the White Queen, The Vikings raided and pillaged as they were wont to do, and the Winter Witch avoided talking to any of them. When her peace and quiet are obliterated by threats of war and Ragnarok, she'll try anything to get them back. When casting spells to become nearly invisible and dealing with otherworldly powers fail, the Winter Witch needs to forge an alliance with Santa—a retired warrior who's anything but jolly—to save the North Pole from calamity. Will the Vikings take up arms against the frost giants? Will an evil necromancer keep the kingdom in the grip of fear? And for the love of Christmas, will everyone who isn't the Winter Witch please stop meddling with dark forces beyond mortal comprehension for a bit? Deck the halls and bar the doors! We're in for a long winter's night.

Purchase Links
______________________________________________
Bestselling author Melody Carlson invites you to spend this holiday season in a town you'll never forget–and never want to leave.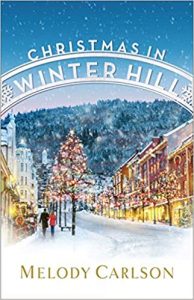 Christmas in Winter Hill by Melody Carson
Krista Galloway is not a fan of Christmas. After her rough childhood in multiple foster homes, the holiday season just brings too many bad memories to the surface. But when she accepts a job as a city manager in the mountain town of Winter Hill, Washington, Christmas is part of the deal. The small town is famous for its Christmasville celebration, something that the city manager . . . well, manages.

Purchase Links
______________________________________________
This heartwarming, feel-good holiday romance brings together a loveable cast of characters who find hope where they thought it had been lost and romance where no one ever expected it.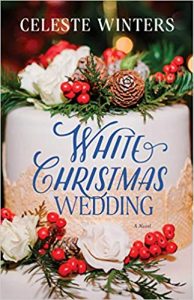 White Christmas Wedding by Celeste Winter
Returning home to her family's farm in the Midwest for her Christmas wedding was never Beth Dean's plan. But it's the only way her beloved grandmother will be able to attend. And even her New York City friends will find the family's old barn elegant. But when her fiancé's family want her to sign a pre-nup, her hopes for her future marriage may be crumbling even as the guests arrive.
Beth's childhood friend, Jen Fitzgerald, has always dreamed of starting a wedding planning business. And when Beth decides to have her wedding back home, it's the perfect chance for Jen to show everyone what she can do. But when the caterer cancels and a blizzard comes in through the barn door, Jen wonders if she's bit off more than she can chew—and how she's going to get through the wedding while seeing her old flame, Jared, for the first time in years.
Meanwhile, Beth's friend Destiny is trying to put on a brave face while she wonders why she never left home to follow her dreams like Beth. The groom's parents are brought face to face with the tensions in their own marriage as they argue over their son's. And Sylvia, a native New Yorker, is wondering how long she can survive in a town that doesn't even have a Starbucks, while unexpected sparks fly with Winston, a gruff local tree surgeon with a heart of gold. But when a surprise snowstorm blankets the area, keeping the guests together on the farm, everyone learns to put aside their differences and enjoy their unexpected Christmas blessings.

Purchase Links
______________________________________________
As snowflakes fall in Gold Valley, Oregon, will this rugged cowboy finally win the woman of his dreams?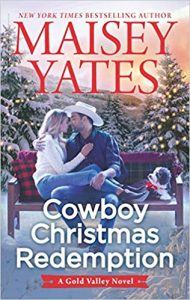 Cowboy Christmas Redemption by Maisey Yates
Cowboy Caleb Dalton has loved single mom Ellie Bell, and her little daughter, Amelia, for years. But since Ellie is his best friend's widow, Caleb's head knows Ellie will always be strictly off-limits. If only his heart got the memo. So when Caleb discovers that Ellie has a Christmas wish list—and hopes for a kiss under the mistletoe—he's throwing his cowboy hat into the ring. If anyone's going to be kissing Ellie and sharing this magical time with her and her daughter, it's him.
Ellie has dreaded the holidays since losing her husband. But this year, she's finally ready to make some changes. She never expects the biggest change to be the heart-stopping kiss she shares with Caleb. For almost five years, Caleb has been her best friend, her rock, her salvation. This Christmas, can Caleb prove he's also the missing puzzle piece of Ellie's and Amelia's hearts?
"Yates's outstanding eighth Gold Valley contemporary will delight newcomers and fans alike…This charming and very sensual contemporary is a must for fans of passion that, in Ellie's words, is almost "too sharp and too bright" to bear. " –Publishers Weekly STARRED review
"Cowboy Christmas Redemption is a tale filled with twists and turns… about forgiving misdeeds, opening up your heart to love and having the guts to go after what you really want and need." –Fresh Fiction

Purchase Links
______________________________________________

Please fill out our super short registration form (click the "Enter Now" button above) by October 31st for a chance to win a set of up to ten copies of one of these great books for your book club! We will randomly choose a winner at the end of the month. This contest is open to clubs in the US only (our apologies to friends in other countries). 
.
Best of luck!
We 
LOVE

 Book Clubs!