About The Boy, the Mole, the Fox and the Horse
• Hardcover: 128 pages
• Publisher: HarperOne (October 22, 2019)
From the revered British illustrator, a modern fable for all ages that explores life's universal lessons, featuring 100 color and black-and-white drawings.
"What do you want to be when you grow up?" asked the mole.
"Kind," said the boy.
Charlie Mackesy offers inspiration and hope in uncertain times in this beautiful book based on his famous quartet of characters. The Boy, the Mole, the Fox, and the Horse explores their unlikely friendship and the poignant, universal lessons they learn together.
Radiant with Mackesy's warmth and gentle wit, The Boy, the Mole, the Fox, and the Horse blends hand-written narrative with dozens of drawings, including some of his best-loved illustrations (including "Help," which has been shared over one million times) and new, never-before-seen material. A modern classic in the vein of The Tao of Pooh, The Alchemist, and The Giving Tree, this charmingly designed keepsake will be treasured for generations to come.
Social Media
Please use the hashtag #theboythemolethefoxandthehorse, and tag @tlcbooktours, @harperonebooks, and @charliemackesy.

Purchase Links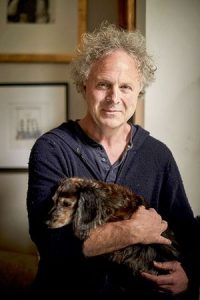 About Charlie Mackesy
Charlie Mackesy was born during a snowy winter in Northumberland. He has been a cartoonist for The Spectator and a book illustrator for Oxford University Press. He has collaborated with Richard Curtis for Comic Relief, and Nelson Mandela on a lithograph project, "The Unity Series." He has lived and painted in South Africa, Southern Africa and New Orleans, and co-runs a social enterprise, Mama Buci, in Zambia, which helps families of low and no income to become beekeepers. He lives in London but is often in Suffolk.
Find out more about Charlie at his website, and follow him on Instagram and Facebook.
Instagram Features
Tuesday, October 22nd: Instagram: @dropandgivemenerdy
Wednesday, October 23rd: Instagram: @rynicolereads
Thursday, October 24th: Instagram: @amberafterglowreads
Friday, October 25th: Instagram: @megsbookclub
Saturday, October 26th: Instagram: @rendezvous_with_reading
Sunday, October 27th: Instagram: @oddandbookish
Monday, October 28th: Instagram: @kimberleewilliams_realestate
Tuesday, October 29th: Instagram: @reallyintothis