Join us for an Instagram tour for
Hardcover: 304 Pages
Publisher: Kensington (November 26, 2019)
Special Agent Meg Jennings and her search-and-rescue dog are on the trail of a killer hiding where others fear to tread…
For Meg Jennings and her K-9 companion, Hawk, exploring the ruins of a deserted building is an exciting way to sharpen their skills without the life-or-death stakes they face as part of the FBI's Human Scent Evidence Team. But deep in the echoing rooms of an abandoned asylum, Hawk finds the body of an elderly woman. The victim couldn't have made her way into the derelict building on her own. Before forty-eight hours pass, Meg learns of more cases of elders found dead in neglected urban structures.
There's not enough evidence to link the deaths—yet. But Meg scents a pattern, and when she gets word of another senior gone missing, she and Hawk don't hesitate. Meg is sure a murderer is hunting the elderly, and she can prove it if she can just find a connection. It will take the expert coordination of her whole team, along with help from Clay McCord and Todd Webb, to uncover the means, let alone a motive. And to stop someone who has operated in the dark for so long, Meg will need to risk more than she has to give . . .

Purchase Links
About Sara Driscoll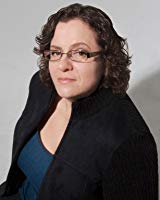 Sara Driscoll is the pen name of Jen J. Danna and Ann Vanderlaan, authors of the Abbott and Lowell Forensic Mysteries. Jen is an infectious disease researcher at a cutting-edge Canadian university near Toronto, but loves to spend her free time writing the thrilling and mysterious. Ann lives in western North Carolina with five rescued pit bulls, including Kane, now a certified therapy dog. She also trains with Kane for competitive nose work. You can follow the latest news on the FBI K-9 Mysteries at www.saradriscollauthor.com.
Connect with Sara
Instagram tour:
Sunday, December 8th: @tlcbooktours – giveaway
Monday, December 9th: @thebookend.diner
Tuesday, December 10th: @bookclubwithbite
Wednesday, December 11th: @jessicamap
Saturday, December 14th: @mixed_matched_socks
Sunday, December 15th: @_ebl_inc_
Tuesday, December 24th: @cassies_books_reviews
Saturday, December 28th: @jennblogsbooks