About Elevator Pitch
• Hardcover: 464 pages
• Publisher: William Morrow (September 17, 2019)
"One hell of a suspense novel." ?—Stephen King
The New York Times bestselling author of A Noise Downstairs and No Time for Goodbye returns with an edge-of-your-seat thriller that does for elevators what Psycho did for showers and Jaws did for the beach—a heart-pounding tale in which a series of disasters paralyzes New York City with fear.
It all begins on a Monday, when four people board an elevator in a Manhattan office tower. Each presses a button for their floor, but the elevator proceeds, non-stop, to the top. Once there, it stops for a few seconds, and then plummets.
Right to the bottom of the shaft.
It appears to be a horrific, random tragedy. But then, on Tuesday, it happens again, in a different Manhattan skyscraper. And when Wednesday brings yet another high-rise catastrophe, one of the most vertical cities in the world—and the nation's capital of media, finance, and entertainment—is plunged into chaos.
Clearly, this is anything but random. This is a cold, calculated bid to terrorize the city. And it's working. Fearing for their lives, thousands of men in women working in offices across the city refuse leave their homes. Commerce has slowed to a trickle. Emergency calls to the top floors of apartment buildings go unanswered.
Who is behind this? Why are they doing it? What do these deadly acts of sabotage have to do with the fingerless body found on the High Line? Two seasoned New York detectives and a straight-shooting journalist must race against time to find the answers before the city's newest, and tallest, residential tower has its ribbon-cutting on Thursday.
With each diabolical twist, Linwood Barclay ratchets up the suspense, building to a shattering finale. Pulsating with tension, Elevator Pitch is a riveting tale of psychological suspense that is all too plausible . . . and will chill readers to the bone.
Social Media
Please use the hashtag #elevatorpitch and tag @tlcbooktours and @williammorrowbooks.

Purchase Links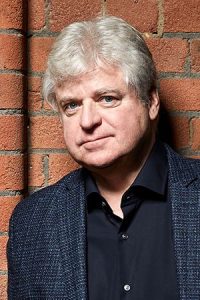 About Linwood Barclay
Linwood Barclay is an international bestselling crime and thriller author with over twenty critically acclaimed novels to his name, including the phenomenal number one bestseller No Time For Goodbye. Every Linwood Barclay book is a masterclass in characterisation, plot and the killer twist, and with sales of over 7 million copies globally, his books have been sold in more than 39 countries around the world and he can count Stephen King, Shari Lapena and Peter James among his many fans.
Many of his books have been optioned for film and TV, and Linwood wrote the screenplay for the film based on his bestselling novel Never Saw It Coming. He is currently working with eOne to turn the Promise Falls trilogy into a series. Born in the US, his parents moved to Canada just as he was turning four, and he's lived there ever since. He lives in Toronto with his wife, Neetha. They have two grown children. Visit Linwood Barclay at www.linwoodbarclay.com or find him on Twitter at @linwood_barclay.
Instagram Features
Tuesday, September 17th: Instagram: @jessicamap
Wednesday, September 18th: Instagram: @alixreads
Thursday, September 19th: Instagram: @lauralovestoread
Friday, September 20th: Instagram: @libraryinprogress
Saturday, September 21st: Instagram: @downtogetthefictionon
Sunday, September 22nd: Instagram: @beritaudiokilledthebookmark
Monday, September 23rd: Instagram: @readingmama_reviews
Tuesday, September 24th: Instagram: @jennsbookvibes