About To Be Taught, If Fortunate
• Paperback: 176 pages
• Publisher: Harper Voyager (September 3, 2019)
"Extraordinary . . . A future sci-fi masterwork in a new and welcome tradition." — Joanne Harris, author of Chocolat
A stand-alone science fiction novella from the award-winning, bestselling, critically-acclaimed author of the Wayfarers series.

At the turn of the twenty-second century, scientists make a breakthrough in human spaceflight. Through a revolutionary method known as somaforming, astronauts can survive in hostile environments off Earth using synthetic biological supplementations. They can produce antifreeze in subzero temperatures, absorb radiation and convert it for food, and conveniently adjust to the pull of different gravitational forces. With the fragility of the body no longer a limiting factor, human beings are at last able to journey to neighboring exoplanets long known to harbor life.
A team of these explorers, Ariadne O'Neill and her three crewmates, are hard at work in a planetary system fifteen light-years from Sol, on a mission to ecologically survey four habitable worlds. But as Ariadne shifts through both form and time, the culture back on Earth has also been transformed. Faced with the possibility of returning to a planet that has forgotten those who have left, Ariadne begins to chronicle the story of the wonders and dangers of her mission, in the hope that someone back home might still be listening.
Social Media
Please use the hashtag #tobetaughtiffortunate and tag @tlcbooktours and @harpervoyagerus.

Purchase Links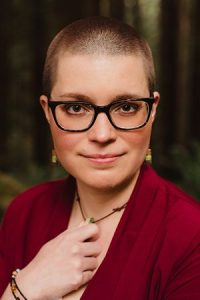 About Becky Chambers
Becky Chambers is the author of the science fiction novels The Long Way to a Small, Angry Planet, A Closed and Common Orbit, and Record of a Spaceborn Few. Her books have been nominated for the Hugo Award, the Arthur C. Clarke Award, and the Bailey's Women's Prize for Fiction, among others. She also writes essays and short stories, which can be found here and there around the internet. In addition to writing, Becky has a background in performing arts, and grew up in a family heavily involved in space science. She spends her free time playing video and tabletop games, keeping bees, and looking through her telescope. She lives with her wife in the woodsy north of California.
Find out more about Becky at her website.
Instagram Features
Tuesday, September 3rd: Instagram: @anovelescape
Thursday, September 5th: Instagram: @createexploreread
Friday, September 6th: Instagram: @readvoraciously
Saturday, September 7th: Instagram: @storied.adventures
Sunday, September 8th: Instagram: @dropandgivemenerdy
Tuesday, September 10th: Instagram: @amberafterglowreads
Friday, September 13th: Instagram: @love.books.and.coffee
Friday, September 20th: Instagram: @_ebl_inc_
TOUR REPLAY: @TLCBookTours