About Wordslut
• Hardcover: 304 pages
• Publisher: Harper Wave (May 28, 2019)
A brash, enlightening, and wildly entertaining feminist look at gendered language and the way it shapes us, written with humor and playfulness that challenges words and phrases and how we use them.
"I get so jazzed about the future of feminism knowing that Amanda Montell's brilliance is rising up and about to explode worldwide."—Jill Soloway
The word bitch conjures many images for many people, but it is most often meant to describe an unpleasant woman. Even before its usage to mean a female canine, bitch didn't refer to gender at all—it originated as a gender-neutral word meaning genitalia. A perfectly innocuous word devolving into a female insult is the case for tons more terms, including hussy—which simply meant housewife—or slut, which meant an untidy person and was also used to describe men. These words are just a few among history's many English slurs hurled at women.
Amanda Montell, reporter and feminist linguist, deconstructs language—from insults and cursing, gossip, and catcalling to grammar and pronunciation patterns—to reveal the ways it has been used for centuries to keep women and other marginalized genders from power. Ever wonder why so many people are annoyed when women talk with vocal fry or use the word like as a filler? Or why certain gender-neutral terms stick and others don't? Or where stereotypes of how women and men speak come from in the first place?
Montell effortlessly moves between history, science, and popular culture to explore these questions and more—and how we can use the answers to effect real social change. Montell's irresistible humor shines through, making linguistics not only approachable but both downright hilarious and profound, demonstrated in chapters such as:
Slutty Skanks and Nasty Dykes: A Comprehensive List of Gendered Insults
How to Embarrass the Shit Out of People Who Try to Correct Your Grammar
Fuck it: An Ode to Cursing While Female
Cyclops, Panty Puppet, Bald Headed Bastard and 100+ Other Things to Call Your Genitalia
Montell effortlessly moves between history and popular culture to explore these questions and more. Wordslut gets to the heart of our language, marvels at its elasticity, and sheds much-needed light into the biases that shadow women in our culture and our consciousness.
Social Media
Please use the hashtag #wordslut, and tag @tlcbooktours, @harper_wave, and @amanda_montell.

Purchase Links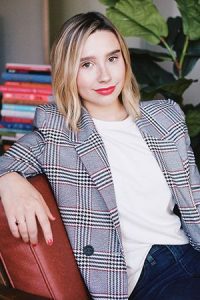 About Amanda Montell
Amanda Montell is a writer and reporter from Baltimore with bylines in Marie Claire, Cosmopolitan, Woman's Day, The Rumpus, Byrdie.com, and WhoWhatWear, where she is the staff features editor. As a pop linguist, Amanda's insights have been featured in Glamour, Bustle, Refinery29, Hello Giggles, and Bust Magazine. Amanda graduated from NYU with a degree in linguistics. She lives in Los Angeles. Find her on Instagram @amanda_montell.
Find out more about Amanda at her website, as well as her Facebook page.
Instagram Features
Monday, August 5th: Instagram: @crystals_library
Wednesday, August 7th: Instagram: @diaryofaclosetreader
Monday, August 12th: Instagram: @sixminutesforme
Tuesday, August 13th: Instagram: @beritaudiokilledthebookmark
Wednesday, August 14th: Instagram: @thereadingcornerforall
Thursday, August 15th: Instagram: @book.hang.o.ver
Monday, August 19th: Instagram: @tarheelreader
Monday, August 19th: Instagram: @lavieestbooks
TOUR REPLAY: @TLCBookTours