Join us for an Instagram tour for
Mass Market Paperback: 368 Pages
Publisher: Zebra (September 24, 2019)
Too quiet. A talented hacker who got caught, Brigid Banaghan is now forced to work with a secret Deep Ops unit. But she won't reveal any more to these renegade Feds than she has to. Especially not to Raider Tanaka, her control freak of a bodyguard and handler. It's enough that his body is tensed for action and his heated gaze is always on her . . .
 
Too sharp. Raider knows there's more to his new assignment than he's been told. Why send a deadly agent of his experience to guard a computer genius—even a gorgeous, unpredictable, undisciplined one? But when Brigid's estranged father is named in an investigation into Boston's organized crime, Raider's mind switches onto high alert, just like his senses . . .
Too close. To clear her father's name, Brigid needs Raider's help. The Unit's idea that she bring a straight-laced Fed in as her "fiancé" won't fly, though—not unless Raider can release his inner bad boy and become the rebel Brigid can't resist . . .

Purchase Links
About Rebecca Zanetti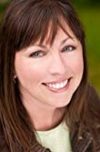 New York Times and USA Today bestselling author Rebecca Zanetti has worked as an art curator, Senate aide, lawyer, college professor, and a hearing examiner – only to culminate it all in stories about Alpha males and the women who claim them. She writes contemporary romances, dark paranormal romances, and romantic suspense novels.
Growing up amid the glorious backdrops and winter wonderlands of the Pacific Northwest has given Rebecca fantastic scenery and adventures to weave into her stories. She resides in the wild north with her husband, children, and extended family who inspire her every day—or at the very least give her plenty of characters to write about.
Connect with Rebecca
Instagram tour:
Sunday, September 22nd: @tlcbooktours – giveaway
Monday, September 23rd: @ksquaredreads
Tuesday, September 24th: @jennblogsbooks
Tuesday, September 24th: @girlandherbooks
Thursday, September 26th: @book_hangover88
Friday, September 27th: @simplykelina
Sunday, September 29th: @beritaudiokilledthebookmark
Monday, September 30th: @laceybooklovers
Wednesday, October 2nd: @_ebl_inc_