About The Churchgoer
• Paperback: 368 pages
• Publisher: Harper Perennial (July 30, 2019)
A LitHub Most Anticipated Book of Summer
A haunting debut literary noir about a former pastor's search to find a missing woman in the toxic, contradictory underbelly of southern California.
"He was finished with church, with God, with all of it. But to find the girl, he has to go back."
In Mark Haines's former life, he was an evangelical youth pastor, a role model, and a family man—until he abandoned his wife, his daughter, and his beliefs. Now he's marking time between sunny days surfing and dark nights working security at an industrial complex. His isolation is broken when Cindy, a charming twenty-two-year old drifter he sees hitchhiking on the Pacific Coast Highway, hustles him for a breakfast and a place to crash—two cynical kindred spirits.
Then his co-worker is murdered in a robbery gone wrong and Cindy disappears on the same night. Haines knows he should let it go and return to his safe life of solitude. Instead, he's driven to find out where Cindy went, under stranger and stranger circumstances. Soon Mark is chasing leads, each one taking him back into a world where his old life came crashing down—into the seedier side of southern California's drug trade and ultimately into the secrets of an Evangelical megachurch where his past and his future are about to converge. What begins as an investigation becomes a haunting mystery and a psychological journey both for Mark, and for the elusive young stranger he won't let get away.
Set in the early 2000s, The Churchgoer is a gripping noir, a quiet subversion of the genre, and a powerful meditation on belief, morality, and the nature of evil in contemporary life.
Social Media
Please use the hashtag #thechurchgoer and tag @tlcbooktours and @harperperennial.

Purchase Links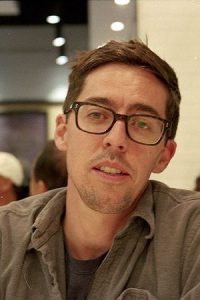 About Patrick Coleman
Patrick Coleman's writing has appeared in Hobart, ZYZZYVA, Zócalo Public Square, the Black Warrior Review, and the Utne Reader, among others. His debut poetry collection, Fire Season (forthcoming from Tupelo Press) won the 2015 Berkshire Prize. Coleman also edited and contributed to The Art of Music, an exhibition catalogue on the relationship between visual arts and music (Yale University Press with the San Diego Museum of Art, October 27, 2015). He earned an MFA from Indiana University and a BA from the University of California Irvine. He lives in Ramona, California and works at the Arthur C. Clarke Center for Human Imagination at UC San Diego.
Find out more about Patrick at his website, and connect with him on Twitter.
Instagram Features
Tuesday, September 3rd: Instagram: @books.coffee.cats
Monday, September 9th: Instagram: @jess_reads_books
Tuesday, September 10th: Instagram: @bookishwinterwitch
Sunday, September 15th: Instagram: @readingwithmere
Monday, September 16th: Instagram: @lindsays_books
Wednesday, September 18th: Instagram: @wherethereadergrows
Thursday, September 19th: Instagram: @libraryinprogress
Friday, September 20th: Instagram: @happiestwhenreading
TBD: Thursday, September 12th: Instagram: @book.hang.o.ver
TOUR REPLAY: @TLCBookTours