___________________________
An insightful, urgent, and perennially relevant handbook that lays out in common sense language how the United States Constitution works, and how its protections are eroding before our eyes—essential reading for anyone who wants to understand and parse the constantly breaking news about the backbone of American government.

How to Read the Constitution — And Why by Kimberly Wehle
The Constitution is the most significant document in America. But do you fully understand what this valuable document means to you? In How to Read the Constitution and Why, legal expert and educator Kimberly Wehle spells out in clear, simple, and common sense terms what is in the Constitution, and most importantly, what it means. In compelling terms, she describes how the Constitution's protections are eroding—not only in express terms but by virtue of the many legal and social norms that no longer shore up its legitimacy—and why every American needs to heed to this "red flag" moment in our democracy.
This invaluable—and timely—resource covers nearly every significant aspect of the Constitution, from the powers of the President and how the three branches of government are designed to hold each other accountable, to what it means to have individual rights—including free speech, the right to bear arms, the right to be free from unreasonable searches and seizures, and the right to an abortion. Finally, the book explains why it has never been more important than now for all Americans to know how our Constitution works—and why, if we don't step in to protect it now, we could lose its protections forever.
How to Read the Constitution and Why  is essential reading for anyone who cares about maintaining an accountable government and the individual freedoms that the Constitution enshrines for everyone in America—regardless of political party.

Purchase Links
___________________________
Two women who long for more, and a house that holds the key to their freedom…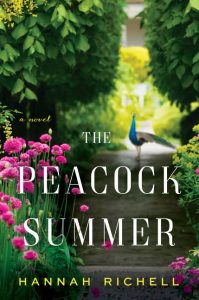 The Peacock Summer by Hannah Richell
From internationally bestselling author Hannah Richell comes this compelling story of hidden secrets, forbidden love, and a mysterious old house.
"A juicy mix of secrets and betrayals make The Peacock Summer by Hannah Richell a perfect holiday read."— Good Housekeeping (UK)
Two summers, decades apart…
Two women whose lives are forever entwined…
And a house that holds the dark secrets that could free them both.
1955: At twenty-six-years old, Lillian Oberon is young, beautiful, and married to the wealthy and handsome Charles Oberon. She is also the mistress of Cloudesley, a lavish estate. But not long after her nuptials, she begins to feel her marriage is a sham. Like the exquisite objets d'art, curiosities, and treasures her husband collects, she is just another possession captured within the walls of the grand countryside manor. With a sister and young stepson in her care, Lillian has made peace with her unfulfilling marriage and fate—until a charismatic artist visits for the summer and makes Lillian re-examine the choices she's made.
The present day: Having abruptly broken off her engagement, Maggie Oberon escapes to Australia, hoping that the distance will make her forget the mess she's made of her life. But when her beloved grandmother, Lillian, becomes ill, she must return to England and confront the past she ran away from. When she arrives at Cloudesley, she is dismayed to find the once opulent estate crumbling into decay. As Maggie scrambles to find a way to save the old property, she is unprepared to learn the dark secrets that have remained hidden behind the dark halls of Cloudesley. But within these walls also lies the key that could change its legacy—and Maggie's life—forever.

Purchase Links
___________________________
Book clubs will love this "riveting story about growing up in dark political times." (Forward Reviews)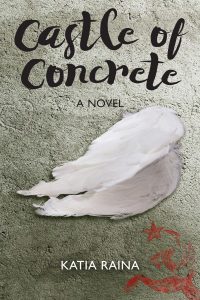 Castle of Concrete by Katia Raina
Set in the final year of Soviet Russia's collapse, this stunning debut novel tells the story of Sonya, a timid Jewish girl reuniting with her once-dissident mother and falling in love with a mysterious boy who may be an anti-Semite. All the while, Sonya's mama is falling in love also?with shiny America, a land where differences seem to be celebrated. The place sounds amazing, but so far away. Will Sonya ever find her way there?

Purchase Links
___________________________
From the Amazon Charts and Wall Street Journal bestselling author of the Everything series comes a new novel of love, lies, and deceit.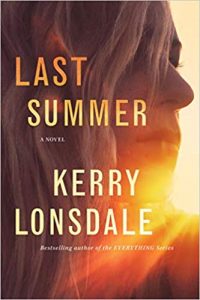 Last Summer by Kerry Lonsdale
Lifestyle journalist Ella Skye remembers every celebrity she interviewed, every politician she charmed between the sheets, and every socialite who eyed her with envy. The chance meeting with her husband, Damien; their rapid free fall into love; and their low-key, intimate wedding are all locked in her memory. But what she can't remember is the tragic car accident that ripped her unborn child from her. Ella can't even recall being pregnant.
Hoping to find the memories of a lost pregnancy that's left her husband devastated and their home empty, Ella begins delving into her past when she's assigned an exclusive story about Nathan Donovan, a retired celebrity adventurer who seems to know more about her than she does him. To unravel the mystery of her selective memory loss, Ella follows Nathan from the snowcapped Sierra Nevada to the frozen slopes of southeast Alaska. There she discovers the people she trusts most aren't the only ones keeping secrets from her—she's hiding them from herself. Ella quickly learns that some truths are best left forgotten.

Purchase Links
___________________________
From the author of The Art of Inheriting Secrets comes an emotional new tale of two sisters, an ocean of lies, and a search for the truth.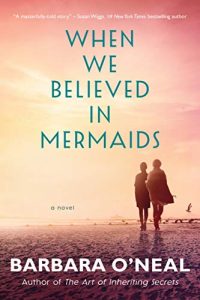 When We Believed in Mermaids by Barbara O'Neal
Her sister has been dead for fifteen years when she sees her on the TV news…
Josie Bianci was killed years ago on a train during a terrorist attack. Gone forever. It's what her sister, Kit, an ER doctor in Santa Cruz, has always believed. Yet all it takes is a few heart-wrenching seconds to upend Kit's world. Live coverage of a club fire in Auckland has captured the image of a woman stumbling through the smoke and debris. Her resemblance to Josie is unbelievable. And unmistakable. With it comes a flood of emotions—grief, loss, and anger—that Kit finally has a chance to put to rest: by finding the sister who's been living a lie.
After arriving in New Zealand, Kit begins her journey with the memories of the past: of days spent on the beach with Josie. Of a lost teenage boy who'd become part of their family. And of a trauma that has haunted Kit and Josie their entire lives.
Now, if two sisters are to reunite, it can only be by unearthing long-buried secrets and facing a devastating truth that has kept them apart far too long. To regain their relationship, they may have to lose everything.

Purchase Links
___________________________

Please fill out our super short registration form (click the "Enter Now" button above) by July 31st for a chance to win a set of up to ten copies of one of these great books for your book club! We will randomly choose a winner at the end of the month. This giveaway is open to clubs in the US only (our apologies to friends in other countries). 
Best of luck!
We 
LOVE

 Book Clubs!