Join us for an Instagram and review tour for
Paperback: 400 Pages
Publisher: Troubador Publishing Ltd (March 15, 2019)
Six months ago, Helle Madsen would have described herself as normal. Now she no longer knows if that terms applies, not after her entire life has been turned upside down by the reappearance of not one, but two, men from her very, very distant past.
Helle Madsen never believed in mumbo-jumbo stuff like reincarnation—until she came face to face with Jason Morris, a man who purportedly had spent fifty lives looking for her. Coping with being reunited with the lover from her ancient past was one thing. Having Sam Woolf, her vindictive nemesis from that same ancient past join the party was a bit too much. Suddenly, Helle finds herself the reluctant heroine of a far-flung, time-transcending epic story, one in which pain and loss seem to play a very big part.
This time round, Jason and Helle are determined to make it to the happily ever after. Unfortunately, Sam Woolf will stop at nothing to crush them. That ride into the golden sunset seems awfully far away at times…

Purchase Links
About Anna Belfrage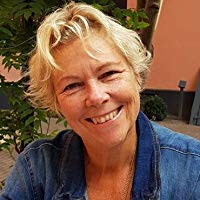 Had Anna been allowed to choose, she'd have become a professional time-traveller. As such a profession does not exist, she settled for second best and became a financial professional with two absorbing interests, namely history and writing. These days, Anna combines an exciting day-job with a large family and her writing endeavours. Plus she always finds the time to try out new recipes, chase down obscure rose bushes and initiate a home renovation scheme or two.
Her most recent release, A Torch in His Heart, is a step out of her comfort zone. Having previously published historical fiction & historical romance, with this first book about Jason and Helle Anna offers a dark and titillating contemporary romance, complete with a time-slip angle and hot & steamy scenes.
Connect with Anna
Instagram tour:
Monday, September 9th: @bookclubwithbite
Monday, September 9th: @booksandchinooks
Tuesday, September 10th: @thereadingchemist
Wednesday, September 11th: @a_bookish_dream
Thursday, September 12th: @mixed_matched_socks
Thursday, September 12th: @book_hangover88
Saturday, September 14th: @novelgrounds
Sunday, September 15th: @lovelyreadergirl
Monday, September 16th: @nsiabblog
Wednesday, September 18th: @sarahs_reads
TOUR REPLAY: @tlcbooktours
Review tour:
Monday, September 16th: What is That Book About – author guest post
Tuesday, September 17th: Bewitched Bookworms
Wednesday, September 18th: From the TBR Pile
Friday, September 20th: Sincerely Karen Jo
Monday, September 23rd: Stranded in Chaos
Wednesday, September 25th: @livingmybestbooklife
Thursday, September 26th: @barr_bookworms
Tuesday, October 1st: @myreadingchronicles
Thursday, October 3rd: @beritaudiokilledthebookmark
Friday, October 4th: Audio Killed the Bookmark
Thursday, October 3rd: @sarahandherbookshelves
Monday, October 7th: @escape_in_a_book
Thursday, October 10th: Treestand Book Reviews
Friday, October 18th: Book Fidelity