About Fix Her Up
• Paperback: 400 pages
• Publisher: Avon (June 11, 2019)
A brand new romantic comedy from New York Times bestseller Tessa Bailey!
Georgette Castle's family runs the best home renovation business in town, but she picked balloons instead of blueprints and they haven't taken her seriously since.  Frankly, she's over it. Georgie loves planning children's birthday parties and making people laugh, just not at her own expense. She's determined to fix herself up into a Woman of the World… whatever that means.
Phase one: new framework for her business (a website from this decade, perhaps?)
Phase two: a gut-reno on her wardrobe (fyi, leggings are pants.)
Phase three: updates to her exterior (do people still wax?)
Phase four: put herself on the market (and stop crushing on Travis Ford!)
Living her best life means facing the truth: Georgie hasn't been on a date since, well, ever. Nobody's asking the town clown out for a night of hot sex, that's for sure. Maybe if people think she's having a steamy love affair, they'll acknowledge she's not just the "little sister" who paints faces for a living. And who better to help demolish that image than the resident sports star and tabloid favorite?
Travis Ford was major league baseball's hottest rookie when an injury ended his career. Now he's flipping houses to keep busy and trying to forget his glory days. But he can't even cross the street without someone recapping his greatest hits. Or making a joke about his… bat. And then there's Georgie, his best friend's sister, who is not a kid anymore. When she proposes a wild scheme—that they pretend to date, to shock her family and help him land a new job—he agrees. What's the harm? It's not like it's real. But the girl Travis used to tease is now a funny, full-of-life woman and there's nothing fake about how much he wants her…
Social Media
Please use the hashtag #fixherup and tag @tlcbooktours, @avonbooks, and @tessabaileyisanauthor.

Purchase Links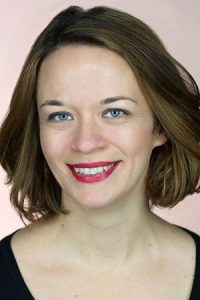 About Tessa Bailey
New York Times bestselling author Tessa Bailey is originally from Carlsbad, California. The day after high school graduation, she packed her yearbook, ripped jeans, and laptop, and drove cross-country to New York City in under four days. Her most valuable life experiences were learned thereafter while waitressing at K-Dees, a Manhattan pub owned by her uncle. Inside those four walls, she met her husband, best friend, and discovered the magic of classic rock, managing to put herself through Kingsborough Community College and the English program at Pace University at the same time. Several stunted attempts to enter the work force as a journalist followed, but romance writing continued to demand her attention.
She now lives in Long Island, New York with her husband and daughter. Although she is severely sleep-deprived, she is incredibly happy to be living her dream of writing about people falling in love.
Find out more about Tessa at her website, and connect with her on Instagram.
Instagram Features
Tuesday, June 11th: Instagram: @book.hang.o.ver
Wednesday, June 12th: Instagram: @mamajustwantstoread
Thursday, June 13th: Instagram: @tarheelreader
Friday, June 14th: Instagram: @cristiinareads
Saturday, June 15th: Instagram: @kmc_reads
Sunday, June 16th: Instagram: @booktwinsreviews1
Monday, June 17th: Instagram: @brookesbooksandbrews
Monday, June 17th: Instagram: @oddandbookish