About The Grand Dark
• Hardcover: 432 pages
• Publisher: Harper Voyager (June 11, 2019)
"A stand-alone heavy hitter that's more in line with recent deviants like Chuck Wendig's upcoming Wanderers (2019) and Daniel H. Wilson's The Clockwork Dynasty (2017). Tonally, this lush novel is closer to Scott Lynch's pirate fantasy The Lies of Locke Lamora (2006), but technologically it resembles the near-future dystopias of Cory Doctorow or China Miéville […] Wildly ambitious and inventive fantasy from an author who's punching above his weight in terms of worldbuilding—and winning." — Kirkus (starred review)
***
From the bestselling author of the Sandman Slim series, a lush, dark, stand-alone fantasy built off the insurgent tradition of China Mieville and M. John Harrison—a subversive tale that immerses us in a world where the extremes of bleakness and beauty exist together in dangerous harmony in a city on the edge of civility and chaos.
The Great War is over. The city of Lower Proszawa celebrates the peace with a decadence and carefree spirit as intense as the war's horrifying despair. But this newfound hedonism—drugs and sex and endless parties—distracts from strange realities of everyday life: Intelligent automata taking jobs. Genetically engineered creatures that serve as pets and beasts of war. A theater where gruesome murders happen twice a day. And a new plague that even the ceaseless euphoria can't mask.
Unlike others who live strictly for fun, Largo is an addict with ambitions. A bike messenger who grew up in the slums, he knows the city's streets and its secrets intimately. His life seems set. He has a beautiful girlfriend, drugs, a chance at a promotion—and maybe, an opportunity for complete transformation: a contact among the elite who will set him on the course to lift himself up out of the streets.
But dreams can be a dangerous thing in a city whose mood is turning dark and inward. Others have a vision of life very different from Largo's, and they will use any methods to secure control. And in behind it all, beyond the frivolity and chaos, the threat of new war always looms.
Social Media
Please use the hashtag #thegranddark and tag @tlcbooktours, @harpervoyagerus, and @rkadrey.

Purchase Links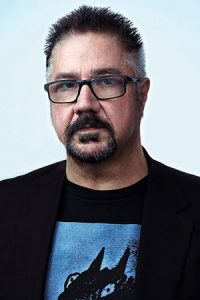 About Richard Kadrey
Richard Kadrey is the New York Times bestselling author of the Sandman Slim supernatural noir books. Sandman Slim was included in Amazon's '100 Science Fiction & Fantasy Books to Read in a Lifetime', and is in development as a feature film. His other books include Hollywood Dead, The Everything Box, Metrophage, and Butcher Bird, and he also writes comics and screenplays. He lives in San Francisco.
Find out more about Richard at his website, and connect with him on Instagram, Facebook, and Twitter.
Instagram Features
Wednesday, June 19th: Instagram: @justagrlandherbooks
Thursday, June 20th: Instagram: @amanda.the.bookish
Friday, June 21st: Instagram: @giuliland
Saturday, June 22nd: Instagram: @wherethereadergrows
Monday, June 24th: Instagram: @rebeccas.reading.rambles
Tuesday, June 25th: Instagram: @jess_reads_books
Wednesday, June 26th: Instagram: @sjthroughthelookingglass
Thursday, July 27th: Instagram: @simplykelina
Tuesday, July 2nd: Instagram: @readforevermore