Join us for an Instagram tour for
Hardcover: 266 Pages
Publisher: Skyscape (August 6, 2019)
Everyone eventually leaves Wren Plumley. First it was her mother, then her best friend, and then her sister. Now living with only her cop father and her upended dreams, Wren feels stranded, like a songbird falling in a storm.
When Wilder, a sickly housebound teen, moves in next door, Wren finally finds what she's always wanted—a person who can't leave. But a chance meeting with Luca, the talkative, crush-worthy boy in her driver's ed class, has Wren wondering if maybe she's too quick to push people away. Soon, Wren finds herself caught between the safety of a friendship and a love worth fighting for.
Wren starts to dream again. But when postcards begin arriving from her sister, Wren must ultimately confront why her mother left fourteen years before and why her sister followed in her footsteps. For her new life to take flight, Wren will have to reconcile the heartbreaking beauty of lost dreams and the beautiful heartbreak of her new reality.

Purchase Links
About Rebekah Crane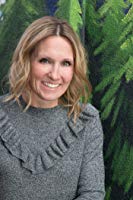 Rebekah Crane is the author of The Odds of Loving Grover Cleveland and other young-adult novels. She found a passion for this genre while studying secondary English education at Ohio University. She is a former high school English teacher, a yoga instructor, and the mother of two girls. After living and teaching in six different cities, Rebekah finally settled in the foothills of the Rocky Mountains to write novels and work on screenplays. She now spends her days tucked behind a laptop at seventy-five hundred feet, where the altitude only enhances the writing experience.
Connect with Rebekah
Instagram tour:
Monday, August 5th: @inquisitivebookworm
Tuesday, August 6th: @amberafterglowreads
Wednesday, August 7th: @everlasting.charm
Wednesday, August 7th: @pieladybooks
Thursday, August 7th: @my_book_journey_
Friday, August 9th: @chapter_break
Saturday, August 10th: @laceybooklovers
Sunday, August 11th: @bookishly_tiff
Sunday, August 11th: @bookapotamus
Monday, August 12th: @oxfordjanebooks
TOUR REPLAY: @TLCBookTours