About The Cabin at the End of the World
• Paperback: 304 pages
• Publisher: William Morrow Paperbacks; Reprint edition (July 2, 2019)
"A tremendous book?thought-provoking and terrifying, with tension that winds up like a chain. The Cabin at the End of the World is Tremblay's personal best. It's that good."  — Stephen King
The Bram Stoker Award-winning author of A Head Full of Ghosts adds an inventive twist to the home invasion horror story in a heart-palpitating novel of psychological suspense that recalls Stephen King's Misery, Ruth Ware's In a Dark, Dark Wood, and Jack Ketchum's cult hit The Girl Next Door.
Seven-year-old Wen and her parents, Eric and Andrew, are vacationing at a remote cabin on a quiet New Hampshire lake. Their closest neighbors are more than two miles in either direction along a rutted dirt road.
One afternoon, as Wen catches grasshoppers in the front yard, a stranger unexpectedly appears in the driveway. Leonard is the largest man Wen has ever seen but he is young, friendly, and he wins her over almost instantly. Leonard and Wen talk and play until Leonard abruptly apologizes and tells Wen, "None of what's going to happen is your fault". Three more strangers then arrive at the cabin carrying unidentifiable, menacing objects. As Wen sprints inside to warn her parents, Leonard calls out: "Your dads won't want to let us in, Wen. But they have to. We need your help to save the world."
Thus begins an unbearably tense, gripping tale of paranoia, sacrifice, apocalypse, and survival that escalates to a shattering conclusion, one in which the fate of a loving family and quite possibly all of humanity are entwined. The Cabin at the End of the World is a masterpiece of terror and suspense from the fantastically fertile imagination of Paul Tremblay.
"Read Paul Tremblay's new novel, The Cabin at the End of the World, and you might not sleep for a week. Longer. It will shape your nightmares for months – that's pretty much guaranteed." — NPR
"Gripping, horrifying, and mesmerizing." — GQ
"A tour-de-force of psychological and religious horror." — BN.com
"A blinding tale of survival and sacrifice." — Kirkus Reviews
"Tremblay has a real winner here." — Tor.com
Social Media
Please use the hashtag #thecabinattheendoftheworld and tag @tlcbooktours, @williammorrowbooks, and @paulgtremblay.

Purchase Links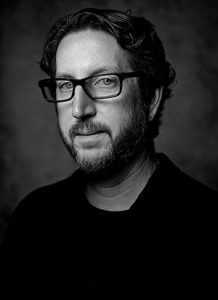 About Paul Tremblay
Paul Tremblay has won the Bram Stoker, British Fantasy, and Massachusetts Book awards and is the author of The Cabin at the End of the World, Disappearance at Devil's Rock, A Head Full of Ghosts, and the crime novels The Little Sleep and No Sleep Till Wonderland. He is currently a member of the board of directors of the Shirley Jackson Awards, and his essays and short fiction have appeared in the Los Angeles Times, Entertainment Weekly online, and numerous year's-best anthologies. He has a master's degree in mathematics and lives outside Boston with his family.
Find out more about Paul at his website, and connect with him on Facebook, Twitter, and Instagram.
Instagram Features
Tuesday, July 2nd: Instagram: @somekindofalibrary
Wednesday, July 3rd: Instagram: @brookesbooksandbrews
Friday, July 5th: Instagram: @reading.betweenthewines
Saturday, July 6th: Instagram: @diaryofaclosetreader
Saturday, July 6th: Instagram: @reallyintothis
Monday, July 8th: Instagram: @lavieestbooks
Monday, July 8th: Instagram: @jennsbookvibes
Thursday, July 11th: Instagram: @jordys.book.club
Sunday, July 14th: Instagram: @shereadswithcats