Join us for an Instagram tour for
Mass Market Paperback: 384 pages
Publisher: Dafina (July 30, 2019)
Between the bustling local bakery, helpful neighbors, and down-home wisdom, Sugar Lake is a delicious place to call home—and love is the sweetest risk . . .
Alexandrea Gale put her acting career on hold to help keep her family's bakery in business—and gave it a few eye-catching updates while she was at it. To earn money to return to New York, she puts her design skills to work with a job renovating a once thriving local vintage theater. But Alexandrea didn't bargain on the owner's business-minded grandson fighting her every step of the way—or proving so unexpectedly irresistible . . .
As the new president of his family's real estate business, Kellen Kilborn feels that selling the theater is the only way to do right by the grandmother who helped raise him. He just can't take a risk on Alexandrea's inventive ideas—but he also can't walk away from her warm-hearted free spirit. As troubling decisions threaten to tear them apart, can they create a way to turn their dreams into the sweetest of futures together?

Purchase Links
About K. M. Jackson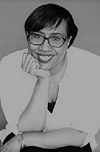 A former fashion designer, K. M. Jackson won a New Jersey Romance Writers' Golden Leaf Award for her novel Bounce. A longtime member of Romance Writers of America, she received the New York Chapter's 2014 Golden Apple Award for Author of the Year. Currently she resides in the suburbs with her husband, twins, and her precocious terrier named Jack—who always keeps her on her toes.
Connect with K. M.
Instagram tour:
Monday, August 19th: @pnwbookworm
Tuesday, August 20th: @ksquaredreads
Tuesday, August 20th: @one_more_paige
Wednesday, August 21st: @jennblogsbooks
Wednesday, August 21st: @myreadingchronicles
Thursday, August 22nd: @sweethoneyandbrei
Friday, August 23rd: @angelareadsbooks
Saturday, August 24th: @thereadingchemist
Sunday, August 25th: @radbabesread
TOUR REPLAY: @TLCBookTours