___________________________
"A laugh-out-loud funny, pitch-perfect novel that will have readers rooting for this unlikely, relatable, and totally lovable heroine, The Overdue Life of Amy Byler is the ultimate escape—and will leave moms everywhere questioning whether it isn't time for a #momspringa of their own." —New York Journal of Books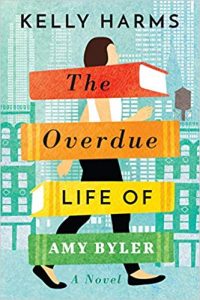 The Overdue Life of Amy Byler by Kelly Harms
Overworked and underappreciated, single mom Amy Byler needs a break. So when the guilt-ridden husband who abandoned her shows up and offers to take care of their kids for the summer, she accepts his offer and escapes rural Pennsylvania for New York City.
Usually grounded and mild mannered, Amy finally lets her hair down in the city that never sleeps. She discovers a life filled with culture, sophistication, and—with a little encouragement from her friends—a few blind dates. When one man in particular makes quick work of Amy's heart, she risks losing herself completely in the unexpected escape, and as the summer comes to an end, Amy realizes too late that she must make an impossible decision: stay in this exciting new chapter of her life, or return to the life she left behind.
But before she can choose, a crisis forces the two worlds together, and Amy must stare down a future where she could lose both sides of herself, and every dream she's ever nurtured, in the beat of a heart.

Purchase Links
___________________________
It was to be the perfect wedding—until the bride disappeared.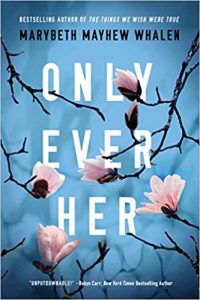 Only Ever Her by Marybeth Mayhew Whalen
Annie Taft's wedding is four days away, and it will be one of the grandest anyone can remember in her small South Carolina town. Preparations are in order. Friends and family are gathering in anticipation. Everything is going according to plan. Except that Annie herself has vanished. Did she have second thoughts?
Or has something much worse happened to the bride-to-be?
As the days pass, the list of suspects in her disappearance grows. Could it be the recently released man a young Annie misidentified as her mother's killer? Could it be someone even closer to her?
While her loved ones frantically try to track her down, they're forced to grapple with their own secrets—secrets with the power to reframe entire relationships, leaving each to wonder how well they really knew Annie and how well they know themselves.

Purchase Links
___________________________
A beautiful, stunningly ambitious novel set in World War II Singapore about a woman who survived the Japanese occupation and a man who thought he had lost everything—for fans of Pachinko and We Were the Lucky Ones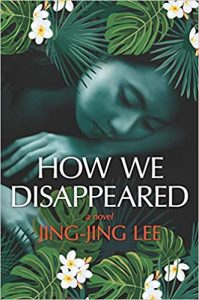 How We Disappeared by Jing-Jing Lee
Singapore, 1942. As Japanese troops sweep down Malaysia and into Singapore, a village is ransacked, leaving only two survivors and one tiny child.
In a neighboring village, seventeen-year-old Wang Di is strapped into the back of a troop carrier and shipped off to a Japanese military brothel where she is forced into sexual slavery as a "comfort woman." After sixty years of silence, what she saw and experienced still haunts her.
In the year 2000, twelve-year-old Kevin is sitting beside his ailing grandmother when he overhears a mumbled confession. He sets out to discover the truth, wherever it might lead, setting in motion a chain of events he never could have foreseen.
Weaving together two time lines and two very big secrets, this stunning debut opens a window on a little-known period of history, revealing the strength and bravery shown by numerous women in the face of terrible cruelty. Drawing in part on her family's experiences, Jing-Jing Lee has crafted a profoundly moving, unforgettable novel about human resilience, the bonds of family and the courage it takes to confront the past.

Purchase Links
___________________________
In the bestselling tradition of Everything I Need to Know I Learned in Kindergarten, a wise and inspiring collection of life lessons drawn from one of the most beloved movies of all time: The Wizard of Oz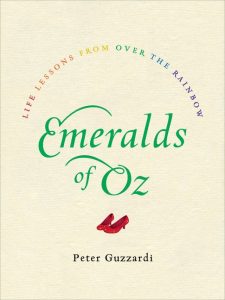 Emeralds of Oz by Peter Guzzardi
After a lifetime in book publishing, Peter Guzzardi had edited a remarkable group of diverse authors, from Stephen Hawking to Deepak Chopra, from Carol Burnett to Douglas Adams, from Byron Katie to Geneen Roth. Yet everything he'd learned from working with them felt oddly familiar. One day it suddenly became clear: all that wisdom had its roots in a film he'd watched as a child, "The Wizard of Oz."
That revelation led to this book. It's a jewel box of insights drawn from Dorothy's heroic journey from helpless in Kansas to powerful in Oz, then back to Kansas, transformed by what she found along the way. In Emeralds of Oz: Life Lessons From Over the Rainbow,we discover what the most-watched film in history has to teach us. With that knowledge we become free to embark on our own journey, having activated the power to direct our lives that we possessed all along.

Purchase Links
___________________________

Please fill out our super short registration form (click the "Enter Now" button above) by May 31st for a chance to win a set of up to ten copies of one of these great books for your book club! We will randomly choose a winner at the end of the month. This giveaway is open to clubs in the US only (our apologies to friends in other countries). 
Best of luck!
We 
LOVE

 Book Clubs!