Join us for an Instagram tour for
Mass Market Paperback: 384 Pages
Publisher: Zebra (July 30, 2019)
Real love is worth every risk . . .
 
Ex-Air Force pilot Andy Whitcomb loves nothing more than the wide blue skies, but when a helicopter crash fighting forest fires in California leaves her injured and shaken, she's ready to return home to the peace of Wind River Ranch. The good news is, there's a chance for her to fly helos for the county sheriff's department. The bad news? The person in charge is none other than Dev Mitchell, an ex-Army Black Hawk pilot—and the rugged, sharp-eyed man Andy has never forgotten after five days together running from the Taliban after a nerve-wracking near-miss in Afghanistan.
Dev can't believe his eyes when Andy walks into the interview. She's as strong and sexy as he remembers, and every bit qualified for the job, which she clearly wants. Unfortunately, if he's going to be her boss, their relationship has to remain strictly professional—a regret Dev fights to keep hidden as they begin to work together. But when a chance encounter with violent drug traffickers forces them into survival mode, both of them will fight to hold on to the connection they can't ignore—and the chance of a future together.

Purchase Links
About Lindsay McKenna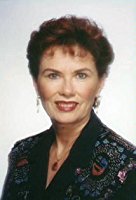 New York Times and USA Today bestselling author Lindsay McKenna is the pseudonym of award-winning author Eileen Nauman. With more than 185 titles to her credit and approximately 23 million books sold in 33 countries worldwide, Lindsay is one of the most distinguished authors in the women's fiction genre. She is the recipient of many awards, including six RT Book Reviews awards (including best military romance author) and an RT Book Reviews Career Achievement Award. In 1999, foreseeing the emergence of ebooks, she became the first bestselling women's fiction author to exclusively release a new title digitally. In recognition of her status as one of the originators of the military adventure/romance genre, Lindsay is affectionately known as "The Top Gun of Women's Military Fiction." Lindsay comes by her military knowledge and interest honestly—by continuing a family tradition of serving in the U.S. Navy. Her father, who served on a destroyer in the Pacific theater during World War II, instilled a strong sense of patriotism and duty in his daughter.
Connect with Lindsay
Instagram tour:
Monday, July 29th: @escape_in_a_book
Tuesday, July 30th: @mixed_matched_socks
Tuesday, July 30th: @barr_bookworms
Wednesday, July 31st: @jennblogsbooks
Thursday, August 1st: @bookish_4_life
Friday, August 2nd: @thecurvysavante
Saturday, August 3rd: @reads_romance
Sunday, August 4th: @thisbibliolife
Sunday, August 4th: @addicted_to_reading_
Tuesday, August 6th: @thereadingchemist
TOUR REPLAY: @TLCBookTours