We have gathered up some amazing titles, perfect for outdoor summer reading, for this special book club BEACH READS giveaway!
____________________________________
The adventures of two families unfold and intertwine—across continents and generations, spanning the 1950s through Obama's first year as president—in The Travelers, an absorbing tale of family, history, and the persistence of love.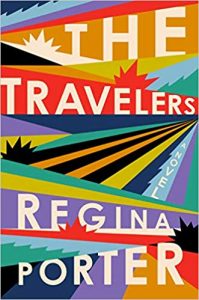 The Travelers by Regina Porter
Meet James Samuel Vincent, an affluent Manhattan attorney who shirks his modest Irish American background but hews to his father's meandering ways. James muddles through a topsy-turvy relationship with his son, Rufus, which is further complicated when Rufus marries Claudia Christie.
Claudia's mother— Agnes Miller Christie—is a beautiful African American woman who survives a chance encounter on a Georgia road that propels her into a new life in the Bronx. Soon after, her husband, Eddie Christie, is called to duty on an air craft carrier in Vietnam, where Tom Stoppard's play "Rosencrantz and Guildenstern Are Dead" becomes Eddie's life anchor, as he grapples with mounting racial tensions on the ship and counts the days until he will see Agnes again.
These unforgettable characters' lives intersect with a cast of lovers and friends—the unapologetic black lesbian who finds her groove in 1970s Berlin; a moving man stranded in Portsmouth, New Hampshire during a Thanksgiving storm; two half-brothers who meet as adults in a crayon factory; and a Coney Island waitress whose Prince Charming is too good to be true.
With piercing humor, exacting dialogue, and a beautiful sense of place, Regina Porter's debut is both an intimate family portrait and a sweeping exploration of what it means to be American today.
Advance praise for The Travelers
"The Travelers is a great, grand tabernacle of a novel, under the roof of which it seems the entire history of the United States and all its people has been gathered into a single blazing congregation. It is full of tales tall and short, lives black, white, and every shade between, from the north, south, east, and west. None but the biggest-hearted, sharpest-eyed, most generous-spirited of writers could pull off a book like this. Regina Porter is some kind of visionary."—Paul Harding, Pulitzer Prize–winning author of Tinkers

Purchase Links
____________________________________
Sometimes love hurts—and sometimes it can heal in the most unexpected way.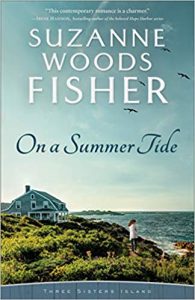 On a Summer Tide by Suzanne Woods Fisher
Camden Grayson loves her challenging career, but the rest of her life could use some improvement. "Moving on" is Cam's mantra. But there's a difference, her two sisters insist, between one who moves on . . . and one who keeps moving.
Cam's full-throttle life skids to a stop when her father buys a remote island off the coast of Maine. Paul Grayson has a dream to breathe new life into the island—a dream that includes reuniting his estranged daughters. Certain Dad has lost his mind, the three sisters rush to the island. To Cam's surprise, the slow pace of island life appeals to her, along with the locals—and one in particular. Seth Walker, the scruffy island schoolteacher harbors more than a few surprises.
With On a Summer Tide, bestselling author Suzanne Woods Fisher begins a brand-new contemporary romance series that is sure to delight her fans and draw new ones.

Purchase Links
____________________________________
From the bestselling author of The Charm Bracelet and The Recipe Box comes the perfect summer escape about the restorative power of family tradition, small-town community and the feel of sand between your toes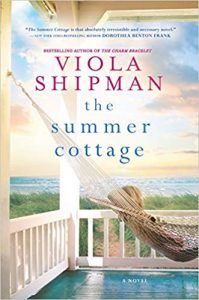 The Summer Cottage by Viola Shipman
Adie Lou Kruger's ex never understood her affection for what her parents called their Cozy Cottage, the charming, ramshackle summer home—complete with its own set of rules for relaxing—that she's inherited on Lake Michigan. But despite the fact she's facing a broken marriage and empty nest, and middle age is looming in the distance, memories of happy childhoods on the beach give her reason for hope. She's determined not to let her husband's affair with a grad student reduce her to a cliché, or to waste one more minute in a career she doesn't love, so it becomes clear what Adie Lou must do: rebuild her life and restore her cottage shingle by shingle, on her terms.
But converting the beloved, weather-beaten structure into a bed-and-breakfast isn't quite the efficient home-reno experience she's seen on TV. Pushback from Saugatuck's contentious preservation society, costly surprises and demanding guests were not part of the plan. But as the cottage comes back to life, Adie Lou does, too, finding support in unexpected places and a new love story on the horizon. One cottage rule at a time, Adie Lou reclaims her own strength, history and joy by rediscovering the magic in every sunset and sandcastle.
"Every now and then a new voice in fiction arrives to completely charm, entertain and remind us what matters. Viola Shipman is that voice and The Summer Cottageis that absolutely irresistible and necessary novel." — New York Times Bestselling Author Dorothea Benton Frank

Purchase Links
____________________________________
Commencement meets The Graduate in this sparkling novel about a secret affair, the summer it all unravels, and the reunion a decade later that will be one woman's happy ending or her biggest mistake.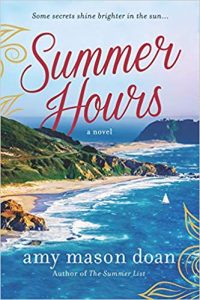 Summer Hours by Amy Mason Doan
Becc was the good girl. A dedicated student. Aspiring reporter. Always where she was supposed to be. Until a secret affair with the charming Cal one summer in college cost her everything she held dear: her journalism dreams; her relationship with her best friend, Eric; and her carefully imagined future.
Now, Becc's past is back front and center as she travels up the scenic California coast to a wedding—with a man she hasn't seen in a decade. As each mile flies by, Becc can't help but feel the thrilling push and pull of memories, from infinite nights at beach bonfires and lavish boat parties to secret movie sessions. But the man beside her is not so eager to re-create history. And as the events of that heartbreaking summer come into view, Becc must decide if those dazzling hours they once shared are worth fighting for or if they're lost forever.
Set in the mid '90s and 2008, Amy Mason Doan's Summer Hours is a warmly told novel about the idealism of youth, the seductive power of nostalgia and what happens when you realize you haven't become the person you'd always promised to be.
"Engaging and nostalgic. Doan's writing sweeps you away to the high-speed, sun-soaked backdrop of nineties California." —Helen Hoang, author of The Kiss Quotient
"A beautifully crafted story of love, ambition, and friendship." —Jamie Brenner, bestselling author of The Forever Summer and Drawing Home

Purchase Links
____________________________________
In 1942, Europe remains in the relentless grip of war. Just beyond the tents of the Russian refugee camp she calls home, a young woman speaks her wedding vows. It's a decision that will alter her destiny…and it's a lie that will remain buried until the next century.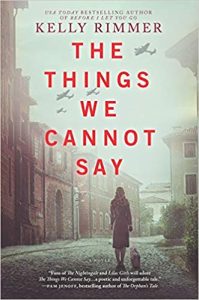 The Things We Cannot Say by Kelly Rimmer
Since she was nine years old, Alina Dziak knew she would marry her best friend, Tomasz. Now fifteen and engaged, Alina is unconcerned by reports of Nazi soldiers at the Polish border, believing her neighbors that they pose no real threat, and dreams instead of the day Tomasz returns from college in Warsaw so they can be married. But little by little, injustice by brutal injustice, the Nazi occupation takes hold, and Alina's tiny rural village, its families, are divided by fear and hate. Then, as the fabric of their lives is slowly picked apart, Tomasz disappears. Where Alina used to measure time between visits from her beloved, now she measures the spaces between hope and despair, waiting for word from Tomasz and avoiding the attentions of the soldiers who patrol her parents' farm. But for now, even deafening silence is preferable to grief.
Slipping between Nazi-occupied Poland and the frenetic pace of modern life, Kelly Rimmer creates an emotional and finely wrought narrative that weaves together two women's stories into a tapestry of perseverance, loyalty, love and honor. The Things We Cannot Say is an unshakable reminder of the devastation when truth is silenced…and how it can take a lifetime to find our voice before we learn to trust it.

Purchase Links
____________________________________
Small-town charm and lots of fun! Book clubs will love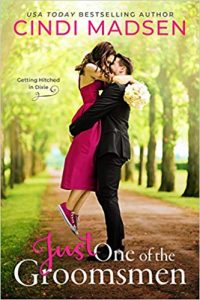 Just One of the Groomsmen (Getting Hitched in Dixie) by Cindi Madsen
Addison Murphy is the funny friend, the girl you grab a beer with-the girl voted most likely to start her own sweatshirt line. And now that one of her best guy friends is getting married, she'll add "groomsman" to that list, too. She'll get through this wedding if it's the last thing she does. Just don't ask her to dive for any bouquet.
When Tucker Crawford returns to his small hometown, he expects to see the same old people, feel comfort in the same old things. He certainly doesn't expect to see the nice pair of bare legs sticking out from under the hood of a broken-down car. Certainly doesn't expect to feel his heart beat faster when he realizes they belong to one of his best friends.
If he convinces Addie to give him a chance, they could be electric…or their break-up could split their tight-knit group in two.
Hiding the way he feels from the guys through bachelor parties, cake tastings, and rehearsals is one thing. But just as Tucker realizes that Addie truly could be the perfect woman for him-he was just too stupid to realize it-now she's leaving to follow her own dreams. He's going to need to do a lot of compromising if he's going to convince her to take a shot at forever with him-on her terms this time.

Purchase Links
____________________________________

Please fill out our super short registration form (click the "Enter Now" button above) by May 31st for a chance to win a set of up to ten copies of one of these great books for your book club! We will randomly choose a winner at the end of the month. This giveaway is open to clubs in the US only (our apologies to friends in other countries). 
Best of luck!
We 
LOVE

 Book Clubs!