___________________________
A pulse-pounding thriller of espionage, spy games, and treachery by the New York Times bestselling author of the Tracy Crosswhite Series.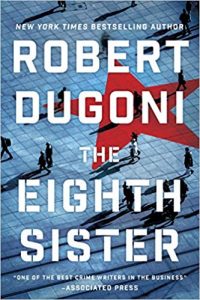 The Eighth Sister by Robert Dugoni
Former CIA case officer Charles Jenkins is a man at a crossroads: in his early sixties, he has a family, a new baby on the way, and a security consulting business on the brink of bankruptcy. Then his former bureau chief shows up at his house with a risky new assignment: travel undercover to Moscow and locate a Russian agent believed to be killing members of a clandestine US spy cell known as the seven sisters.
Desperate for money, Jenkins agrees to the mission and heads to the Russian capital. But when he finds the mastermind agent behind the assassinations—the so-called eighth sister—she is not who or what he was led to believe. Then again, neither is anyone else in this deadly game of cat and mouse.
Pursued by a dogged Russian intelligence officer, Jenkins executes a daring escape across the Black Sea, only to find himself abandoned by the agency he serves. With his family and freedom at risk, Jenkins is in the fight of his life—against his own country.

Purchase Links
___________________________
A once-beloved hotel and a fountain whose water suddenly can restore lost memories. But is it a miracle, or are there strings attached?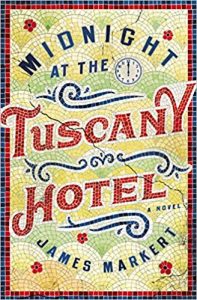 Midnight at the Tuscany Hotel by James Markert
The Tuscany Hotel was once a haven for young artists. A place full of inspiration and a work of art in and of itself, the hotel was built by Robert Gandy for his wife, Magdalena: a woman of beauty beyond description who was orphaned as an infant in Florence and grew up without the ability to remember. A tragedy caused the hotel to close its doors, however, and it has been years since the fountain in the courtyard ran with water and inspiration.
Vitto Gandy, Robert's son, returns from the horrors of World War II to a wife who fears him, a son who is too young to remember him, and a father whose memory of him is fading. As Vitto faces the memories that torture his heart and mind, his father runs off in the night to seek solace in the last place he was happy: the Tuscany Hotel. Instead of finding ruins, he discovers that the water in the fountain has begun to run again. And as he drinks it, his memory returns.
Filled with Alzheimer's patients hoping for restored memories rather than artists longing for inspiration, the hotel is once again a source of life and art. But nothing is truly as good as it seems, and the mysterious gift of the hotel comes with a price that each must determine they're willing to pay. Bursting with beauty, art, and inspiration, Midnight at the Tuscany Hotel is a story of parent and child, husband and wife, and the joy and pain of what it means to be alive.

Purchase Links
___________________________

Please fill out our super short registration form (click the "Enter Now" button above) by April 30th for a chance to win a set of up to ten copies of one of these great books for your book club! We will randomly choose a winner at the end of the month. This giveaway is open to clubs in the US only (our apologies to friends in other countries). 
Best of luck!
We 
LOVE

 Book Clubs!