Join us for an Instagram and review tour for
Hardcover: 280 Pages
Publisher: Lake Union Publishing (July 1, 2019)
Stay calm, keep smiling, and watch your step. In this marriage of secrets and lies, nothing is what it seems.
For days, all of Denver, Colorado, has worried over the fate of a missing child, little Tanner Holcomb. Then, a miracle: handsome, athletic Johnny Bradley finds him, frightened but unharmed, on a hiking trail miles from his wealthy family's mountain home.
In a heartbeat, his rescuer goes from financially strapped fitness trainer to celebrated hero. The heat of the spotlight may prove too much for Johnny's picture-perfect family, however. His wife, Veronica, despises the pressure of the sudden fame, afraid that secrets and bitter resentments of her marriage may come to light. And she's willing to do anything to keep them hidden.
But when a shocking revelation exposes an even darker side to Tanner's disappearance, Veronica realizes that nothing in her life can be trusted. And everything should be feared.

Purchase Links
About Victoria Helen Stone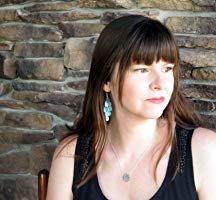 Victoria Helen Stone, formerly writing as USA Today bestselling novelist Victoria Dahl, was born and raised in the flattest parts of the Midwest. Now that she's escaped the plains of her youth, she writes dark suspense from an upstairs office high in the Wasatch Mountains of Utah. She enjoys summer trail hikes with her family almost as much as she enjoys staying inside during the winter. Since leaving the lighter side of fiction, she has written the critically acclaimed, bestselling novels Evelyn, After; Half Past; and Jane Doe. For more on the author and her work, visit www.VictoriaHelenStone.com and www.VictoriaDahl.com.
Connect with Victoria
Instagram tour:
Saturday, June 1st: @thriftybibliophile
Saturday, June 1st: @readingbetweenthe_wines
Monday, June 3rd: @sweethoneyandbrei
Tuesday, June 4th: @shereadswithcats
Wednesday, June 5th: @bookstackedblonde
Thursday, June 6th: @ohthebooksshewillread
Saturday, June 8th: @bookishconnoisseur
Saturday, June 8th: @bookishwinterwitch
TOUR REPLAY: @TLCBookTours
Review tour:
Tuesday, June 4th: She Reads With Cats
Wednesday, June 5th: @cassies_books_reviews
Thursday, June 6th: @angelareadsbooks
Friday, June 7th: Where the Reader Grows and @wherethereadergrows
Monday,  June 10th: Bewitched Bookworms
Monday, June 10th: @downtogetthefictionon
Tuesday, June 11th: Jessicamap Reviews and @jessicamap
Thursday, June 13th: @cassidys.bookshelf
Friday, June 14th: Rad Babes Read and @radbabesread
Monday, June 17th: Tar Heel Reader and @tarheelreader
Tuesday, June 18th: What is That Book About – spotlight or guest post
Wednesday, June 19th: @libraryinprogress
Thursday, June 20th: The Pages In-Between and @thepagesinbetween
Friday, June 21st: @readwithjamie
Monday, June 24th: Audio Killed the Bookmark and @beritaudiokilledthebookmark
Tuesday, June 25th: Lori's Reading Corner – spotlight or guest post
Wednesday, June 26th: @beauty_andthebook
Thursday, June 27th: @love_my_dane_dolly
Saturday, July 6th: Books and Bindings
Friday, July 12th: Thoughts from a Highly Caffeinated Mind