Join us for an Instagram tour for
Paperback: 288 pages
Publisher: Roost Books; Reprint edition (November 13, 2018)
40 seasonal meals, 100 recipes, and loads of tips and strategies to make weeknight dinners work
 
Reclaim the family dinner! In Feeding a Family, nutritionist and mom Sarah Waldman lays out all the tools you need to break out of the mealtime rut and turn dinner into a nutritionally fulfilling and happy occasion—despite busy schedules, long work days, and picky eaters. Through forty complete meals, you'll discover hearty dinners the whole family will love, including:
· A meal for using up the best summer garden produce: Make-ahead Zucchini, Beef, and Haloumi Cheese Skewers with Chimichurri Sauce paired with Tomato, Peach, and Red Onion Panzanella and Lemon-Blackberry Custard
· A cozy and comforting dinner for a frenzied fall day: Creamy Tomato and Spinach Soup with Grilled Cheese Croutons and Pear Pie in Cornmeal Crust
· The perfect meal for the busiest night of the week: Slow Cooker Indian Butter Chicken with Sweet Peas and Lemon-Pecan Shortbread Cookies
· A warming (and fun) winter meal: One-pot Slurpee Noodle Bowls with simple Chocolate, Peanut Butter, and Date Truffles for dessert
· Sunday suppers for when you have a bit more time to play in the kitchen, such as Homemade Pasta with Heirloom Tomato Sauce and Pavlova with Blueberries
With suggestions for including older kids in mealtime prep, tips for feeding baby, and ideas for extending ingredients for "tomorrow's dinner," Feeding a Family is a playbook that includes the whole family.

Purchase Links
About Sarah Waldman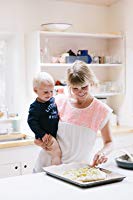 Sarah Waldman fell in love with food while playing "cooking show" with her little sister in the 1980s. Decades later, she followed that passion to the Institute of Integrative Nutrition to study the connections between food and personal wellness. Now Sarah spends her time being a mother, food writer, and recipe developer. As a health-focused home cook, she develops and offers recipes for simple, whole-food meals appropriate for every member of the family. Her work has been featured in Fine Cooking, Shape, Edible Vineyard, Food52, and The Coastal Table. Sarah lives on Martha's Vineyard with her husband and two boys. On her blog (SarahWaldman.com) she shares healthy, seasonal recipes that celebrate a family-focused life.
Connect with Sarah
Instagram tour:
Monday, May 20th: @modernfarmhousefamily
Tuesday, May 21st: @this.suburban.life
Thursday, May 23rd: @one_more_paige
Friday, May 24th: @theunreadshelf
Friday, May 24th: @basicbsguide
Friday, June 14th: @bostonseedlings
TOUR REPLAY: @TLCBookTours