___________________________
A sweeping historical novel that spans Germany, England, and the United States and follows a young couple torn apart by circumstance leading up to World War II—and the family secret that may prove to be the means for survival.

Love brought them together. But only time can save them…
1931, Germany. Bookshop owner Max Beissinger meets Hanna Ginsberg, a budding concert violinist, and immediately he feels a powerful chemistry between them. It isn't long before they fall in love and begin making plans for the future. As their love affair unfolds over the next five years, the climate drastically changes in Germany as Hitler comes to power. Their love is tested with the new landscape and the realities of war, not the least of which is that Hanna is Jewish and Max is not. But unbeknownst to Hanna is the fact that Max has a secret, which causes him to leave for months at a time—a secret that Max is convinced will help him save Hanna if Germany becomes too dangerous for her because of her religion.
In 1946, Hanna Ginsberg awakens in a field outside of Berlin. Disoriented and afraid, she has no memory of the past ten years and no idea what has happened to Max. With no information as to Max's whereabouts—or if he is even still alive—she decides to move to London to live with her sister while she gets her bearings. Even without an orchestra to play in, she throws herself completely into her music to keep alive her lifelong dream of becoming a concert violinist. But the music also serves as a balm to heal her deeply wounded heart and she eventually gets the opening she long hoped for. Even so, as the days, months, and years pass, taking her from London to Paris to Vienna to America, she continues to be haunted by her forgotten past, and the fate of the only man she has ever loved and cannot forget.
Told in alternating viewpoints—Max in the years leading up to WWII, and Hanna in the ten years after—In Another Time is a beautiful novel about love and survival, passion and music, across time and continents.

Purchase Links
___________________________
In this gorgeously stunning debut, a mysterious child teaches two strangers how to love and trust again.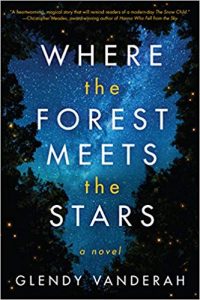 Where the Forest Meets the Stars by Glendy Vanderah
After the loss of her mother and her own battle with breast cancer, Joanna Teale returns to her graduate research on nesting birds in rural Illinois, determined to prove that her recent hardships have not broken her. She throws herself into her work from dusk to dawn, until her solitary routine is disrupted by the appearance of a mysterious child who shows up at her cabin barefoot and covered in bruises.
The girl calls herself Ursa, and she claims to have been sent from the stars to witness five miracles. With concerns about the child's home situation, Jo reluctantly agrees to let her stay—just until she learns more about Ursa's past.
Jo enlists the help of her reclusive neighbor, Gabriel Nash, to solve the mystery of the charming child. But the more time they spend together, the more questions they have. How does a young girl not only read but understand Shakespeare? Why do good things keep happening in her presence? And why aren't Jo and Gabe checking the missing children's website anymore?
Though the three have formed an incredible bond, they know difficult choices must be made. As the summer nears an end and Ursa gets closer to her fifth miracle, her dangerous past closes in. When it finally catches up to them, all of their painful secrets will be forced into the open, and their fates will be left to the stars.
"Enchanting, insightful, and extraordinary." —Novelgossip
"A heartwarming, magical story about love, loss, and finding family where you least expect it. This touching novel will remind readers of a modern-day The Snow Child." —Christopher Meades, award-winning author of Hanna Who Fell from the Sky

Purchase Links
___________________________
The only thing certain is change—even in a place as steady as Perry, Alabama, on a street as old as Glory Road.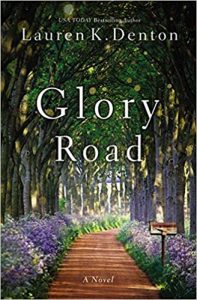 Glory Road by Lauren K. Denton
Nearly a decade after her husband's affair drove her back home to South Alabama, Jessie McBride has the stable life she wants—operating her garden shop, Twig, next door to her house on Glory Road, and keeping up with her teenage daughter and spunky mother. But the unexpected arrival of two men makes Jessie question whether she's really happy with the status quo. When handsome, wealthy businessman Sumner Tate asks her to arrange flowers for his daughter's lavish wedding, Jessie finds herself drawn to his continued attention. Then Ben Bradley, her lingering what-could-have-been from high school, moves back to the red dirt road, and she feels her heart pulled in directions she never expected.
Meanwhile, Jessie's fourteen-year-old daughter, Evan, is approaching the start of high school and navigating a new world of emotions—particularly as they relate to the cute new guy who's moved in just down the road. At the same time, Jessie's mother, Gus, is suffering increasingly frequent memory lapses and faces a frightening, uncertain future. Once again, Jessie feels her protected and predictable life shifting.
In one summer, everything will change. But for these three strong Southern women, the roots they've planted on Glory Road will give life to the adventures waiting just around the curve.
"Rich colorful characters capturing my heart, combined with a story that kept me up till the wee hours, Glory Road is a perfect read. Lauren Denton has done it again!" —Lisa Patton, bestselling author of Rush and Whistlin' Dixie in a Nor'easter
"Once again Lauren Denton brings her lyrical writing and compelling characters to a story that will enthrall readers from page one." —Marybeth Mayhew Whalen, author of Only Ever Her and co-founder of She Reads, for Glory Road

Purchase Links
___________________________
"Compellingly woven by Jolina Petersheim's capable pen, How the Light Gets In follows a trail of grief toward healing, leading to an impossible choice–what is best when every path will hurt someone?" –Lisa Wingate, New York Times bestselling author of Before We Were Yours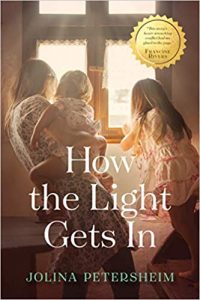 How the Light Gets In by Jolina Petersheim
From the highly acclaimed author of The Outcast and The Alliance comes an engrossing novel about marriage and motherhood, loss and moving on.
When Ruth Neufeld's husband and father-in-law are killed working for a relief organization overseas, she travels to Wisconsin with her young daughters and mother-in-law Mabel to bury her husband. She hopes the Mennonite community will be a quiet place to grieve and piece together next steps.
Ruth and her family are welcomed by Elam, her husband's cousin, who invites them to stay at his cranberry farm through the harvest. Sifting through fields of berries and memories of a marriage that was broken long before her husband died, Ruth finds solace in the beauty of the land and healing through hard work and budding friendship. She also encounters the possibility of new love with Elam, whose gentle encouragement awakens hopes and dreams she thought she'd lost forever.
But an unexpected twist threatens to unseat the happy ending Ruth is about to write for herself. On the precipice of a fresh start and a new marriage, Ruth must make an impossible decision: which path to choose if her husband isn't dead after all.
"A mother's love and a mother's duty war with a woman's need to feel loved and whole, in a story that will have you pondering long after you close the final page.Which path would I take?" – Lisa Wingate, New York Times Bestselling Author of Before We Were Yours
"Petersheim's gentle retelling of the story of Ruth will both stir and settle the hearts of her readers." – Lauren K. Denton, USA Today bestselling author of The Hideaway and Hurricane Season

Purchase Links
___________________________

Please fill out our super short registration form (click the "Enter Now" button above) by March 31st for a chance to win a set of up to ten copies of one of these great books for your book club! We will randomly choose a winner at the end of the month. This giveaway is open to clubs in the US only (our apologies to friends in other countries). 
Best of luck!
We 
LOVE

 Book Clubs!