Paperback: 272 Pages
Publisher: Blink (May 21, 2019)
From Christina June, author of It Started with Goodbye and Everywhere You Want to Be, comes No Place Like Here, a modern twist on Hansel and Gretel. Ashlyn Zanotti has big plans for the summer. She's just spent a year at boarding school and can't wait to get home. But when Ashlyn's father is arrested for tax evasion and her mother enters a rehab facility for "exhaustion," her life is turned upside down.
The cherry on top? Ashlyn's father sends her to work with a cousin she doesn't even know at a rustic team-building retreat center in the middle of nowhere. A self-proclaimed "indoor girl," not even Ash's habit of leaving breadcrumb quotes—inspirational sayings she scribbles everywhere—can help her cope.
With a dangerously careless camp manager doling out grunt work, an overbearing father trying to control her even from prison, and more than a little boy drama to struggle with, the summer is full of challenges. And Ashlyn must make the toughest decision of her life: keep quiet and follow her dad's marching orders, or find the courage to finally stand up to her father to have any hope of finding her way back home.
Fans looking for clean teen fiction, with elements of drama, romance, friendship, and an unflinching look into navigating and improving even the most difficult parent-teen relationships need look no further.

Purchase Links
About Christina June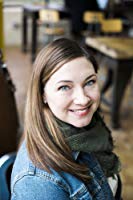 Christina June writes young adult contemporary fiction when she's not writing college recommendation letters during her day job as a school counselor. She loves the little moments in life that help someone discover who they're meant to become—whether it's her students or her characters. Christina is a voracious reader, loves to travel, eats too many cupcakes, and hopes to one day be bicoastal—the east coast of the US and the east coast of Scotland. She lives just outside Washington, D.C., with her husband and daughter.
Connect with Christina
Christina June's TLC Book Tours TOUR STOPS:
Monday, May 20th: Bookworm for Kids
Wednesday, May 22nd: @createexploreread
Thursday, May 23rd: @the_readers_nook
Thursday, May 23rd: ReadWonder
Tuesday, May 28th: @thegraduatedbookworm
Tuesday, May 28th: @booksandjil
Wednesday, May 29th: Amy's Book-et List
Thursday, May 30th: Becca Leighanne
Monday, June 3rd: Teachers Who Read
Tuesday, June 4th: @_ebl_inc_
Wednesday, June 5th: The Book Return
Thursday, June 6th: @lovelyreadergirl
Sunday, June 9th: Sincerely Karen Jo
Monday, June 10th: Run Wright